Pointer multimeters
5
Order by:
Recommend
Low-priced
High-priced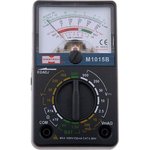 quick view
Mastech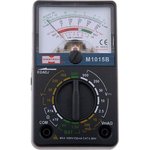 quick view
Mastech
quick view
TEK(1428)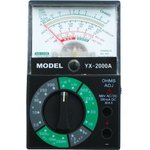 quick view
Master Professional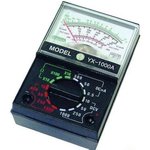 quick view
Master Professional
A multimeter is a combined electrical measuring instrument that combines several functions. It is designed to measure voltage, current, resistance, and may also have other options, the list of which varies, depending on the model. Modern multimeters can also be used to perform tasks such as measuring electrical capacitance, testing semiconductor transistors and diodes, measuring inductance, as well as temperature. Multimeters are simply indispensable in the process of repairing digital and electronic equipment.
There are a lot of varieties of multimeters, they can be either a lightweight portable device the size of a phone, and be used for basic measurements and troubleshooting, or a complex stationary device with many functions and capabilities.
According to their device, multimeters are divided into digital multimeters and analog multimeters (pointer).

An analog (pointer) multimeter consists of a pointer magnetoelectric measuring device (microammeter), a set of additional resistors for measuring voltage and a set of shunts for measuring current. The measurement results are shown by an arrow on the measuring scale.
The assortment includes multimeters of a large number of brands, such as: Fluke, Tektronix, Keithley, Hameg, APPA, Good Will, Mastech, CEM, Uni Trend, ProsKit, Velleman, Aktakom, etc.
Having decided to buy an analog multimeter, contact the Chip and Dip company. We will offer you both more expensive models with the maximum number of different functions, as well as more budget models that allow you to perform basic tasks.
You can receive an order at our office and pick-up point in Yerevan. Delivery of goods is carried out throughout Armenia by courier and Haypost.
Order delivery to Yerevan, Gyumri, Vanadzor and more than 40 cities and towns of Armenia.
Products from the group «Pointer multimeters» you can buy wholesale and retail.