Compressors
1
Order by:
Recommend
Low-priced
High-priced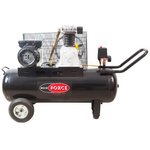 quick view
Rockforce
Structurally, electric automotive compressors are divided into membrane and piston. The productivity of compressors of the second type is somewhat higher than that of membrane compressors, but membrane compressors have their own advantages - they are more durable and reliable in operation. Each compressor is equipped with a pressure gauge, the accuracy class of which also determines the cost of the tool. Budget models of compressors are equipped with pointer-dial pressure gauges, more expensive modifications are equipped with digital measuring instruments that give high-precision readings.
You can receive an order at our office and pick-up point in Yerevan. Delivery of goods is carried out throughout Armenia by courier and Haypost.
Order delivery to Yerevan, Gyumri, Vanadzor and more than 40 cities and towns of Armenia.
Products from the group «Compressors» you can buy wholesale and retail.