Connectors Video
2
Order by:
Recommend
Low-priced
High-priced
quick view
Attend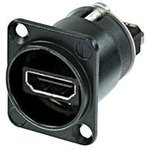 quick view
Neutrik
Video connectors are products designed for switching receiving devices, transmitting and processing video signals.
The most common connectors of this type are:
VGA: Used to output analog signals;
S-Video: analog connector used to output images to TVs and other video equipment;
DVI: a digital connector designed to connect video cards to LCD monitors, TVs, projectors and plasma panels;
RCA: composite connector designed to connect TVs and video equipment using a coaxial cable;
HDMI: Multimedia connectors for high quality video and audio transmission.
You can receive an order at our office and pick-up point in Yerevan. Delivery of goods is carried out throughout Armenia by courier and Haypost.
Order delivery to Yerevan, Gyumri, Vanadzor and more than 40 cities and towns of Armenia.
Products from the group «Connectors Video» you can buy wholesale and retail.