Online webinar from Tektronix "Battery Testing"
15.02.2022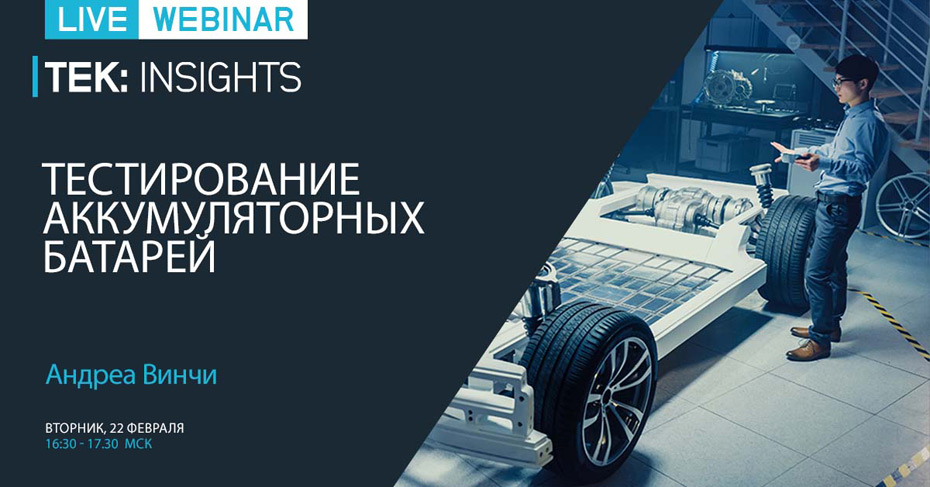 Interested in an overview of the battery market in terms of instrumentation applications?
On February 22, 16:30-17:30 Moscow time, expert Andrea Vinci will host a live webinar in English, where he will present the market as a whole and discuss typical approaches to solving problems that arise in the development and production of batteries.
Designing battery-powered devices?
Tektronix is partnering with incredible ultra-low power electronics designers, up-and-coming enthusiasts designing trendy e-bikes, giant battery manufacturers and system integrators.
Rechargeable batteries are everywhere in our daily life. This immediately gets us thinking about portable electronics, but the biggest challenges for battery suppliers are the high-energy lithium-ion battery cells, modules and packs used in today's vehicles. The stringent performance and safety requirements of these complex electrochemical systems result in particularly time-consuming test cycles. In this webinar, we'll walk through the battery manufacturing process, present Keithley's test solutions that are currently successful in the industry, and discuss what the future might look like in terms of testing requirements.
Join our battery testing webinar, tell us about the problems you're having, and we'll share our current solutions for some of the most common electrical testing cases.
If you are interested in participating in this webinar and receiving materials, please register by clicking on the button below. If something prevents you from taking part in the live stream, don't worry. We will send you information about access to the recording of the webinar to the address provided during registration.