External USB-DAC-Audio Processor, CDD 011. Novelties of our own production
29.11.2022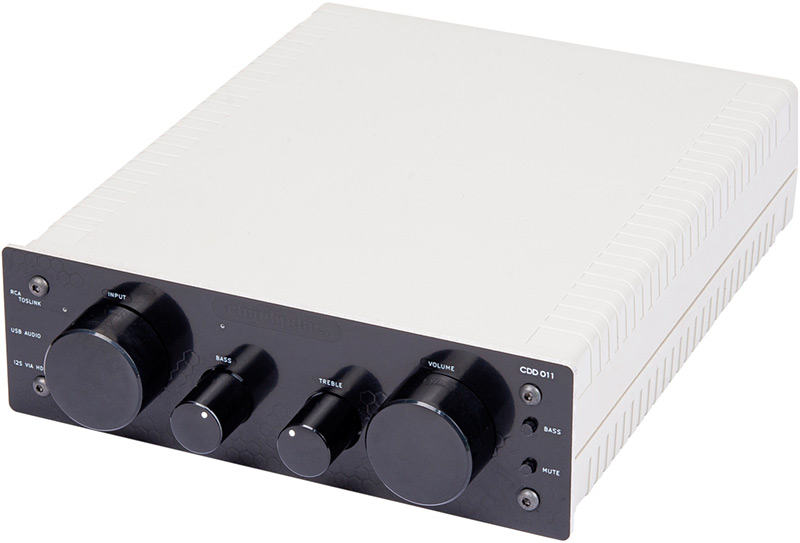 Audiophile USB player CDD 011 combines digital sound processing on the ADAU1452 audio processor, high-quality digital-to-analog conversion on the AD1934 codec and analog signal preparation by high-performance OPA1632 op amps.
Thanks to the AD1934 codec, it became possible to add a low-frequency channel for a subwoofer with the SuperBass algorithm to the wideband stereo channel. If you don't already have a subwoofer, only connect your audio system to the stereo outputs. They output a broadband stereo channel 10 - 22000 Hz. You can connect ANY digital audio sources to CDD 011 , even exotic I2S via HDMI.
Characteristics
Compatible with Raspberry Pi OS, Linux, Windows, Android, macOS
High quality DSP ADAU1452 and DAC AD1934 for the best sound quality
Digital outputs: I2S via HDMI
Analog outputs: 3 x XLR (left, right, subwoofer)
Digital inputs: USB-audio, SPDIF, Toslink, I2S via HDMI
HDMI CEC input - volume control on / off with the remote control
Sample Rate Range: 44.1kHz, 48.0kHz, 88.2kHz, 96.0kHz, 176.4kHz, 192kHz
Color indication of sampling rates
Input selector
Adjustment algorithms: Super Bass, Bass, Treble
Compatible with all SigmaStudio and ChipStudio algorithms
Power supply: from an external adapter 12V, 1.5A
Size: 156x180x44 mm
Any characteristics or properties of the model can be changed, removed or added using the algorithms and modules of SigmaStudio and ChipStudio!
What's under the lid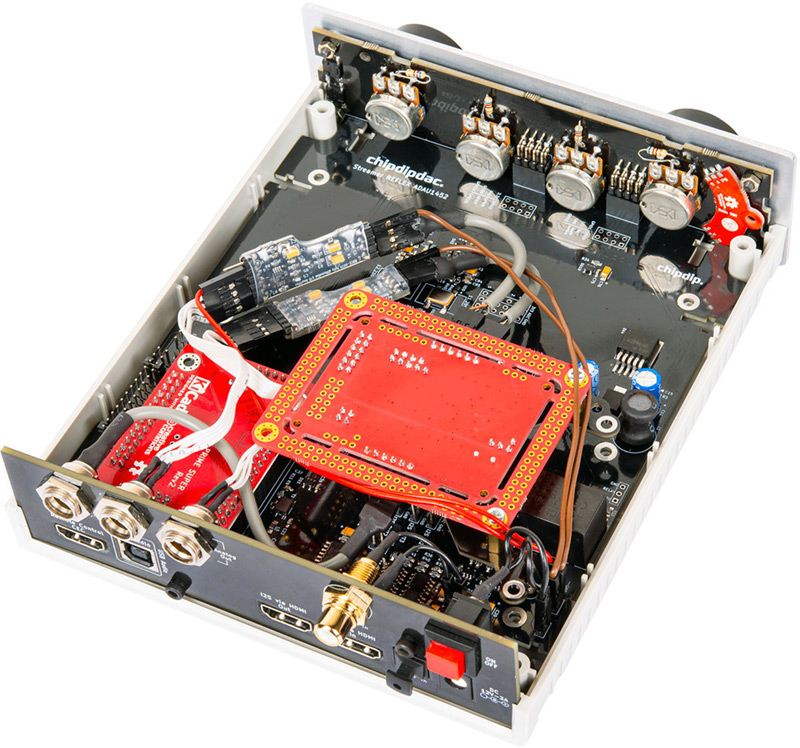 Ask a question on our forum.
Five days in one letter - we will tell you what it was and how it works. Subscribe to news from the development center "CHIP and DIP".