CyberPower UPS Network Management Card RMCARD205
16.03.2023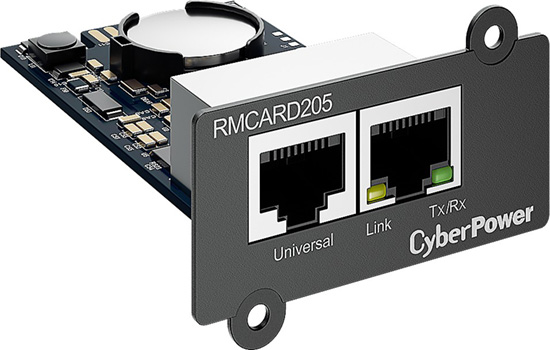 A common solution for professional UPS management is Network Management Card (SNMP), which allows multiple devices to be remotely managed through a single platform. For example, when UPS systems are distributed over a wide area and used in critical applications. The SNMP card or remote management card uses the Simple Network Management Protocol (SNMP), which is an Internet standard protocol for collecting and organizing information about managed devices on IP networks. When installed, the card helps users monitor and control one or more UPS systems from the field and perform management tasks such as scheduled shutdowns, startups, and reboots.
With the optional RMCARD205 network card, users can conveniently remotely manage the CyberPower UPS series:
By inserting the card into the SNMP/HTTP slot on the UPS, users can remotely monitor and manage devices in back offices, server rooms, data centers or industrial plants through standard web browsers or a network management system (NMS) or command line interface ( SSH and Telnet) on your network.
Plug-n-Play Installation
The plug-and-play function allows users to install the device by simply inserting the card into the expansion slot, providing users with a convenient operation.
Automatic event notifications
The intuitive user interface supports automatic event notification via email, SNMP traps, syslog, and SMS to inform users of power problems, enabling users to respond immediately to such problems.
User Upgradable Firmware
Users can conveniently update the firmware to the latest version via an FTP tool or software with an update and configuration utility to ensure optimal system performance.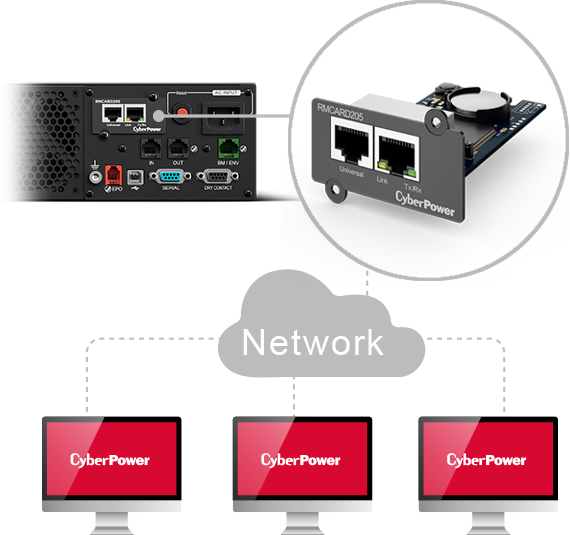 User friendly web interface
The web interface of the remote management card allows users to remotely manage the power system. Users can find important status information, perform advanced settings, and perform battery tests in this web-based interface.
Syslog support
A system log is maintained on the server, in which all messages are logged, and in the event of an "event" an alarm is sent to the user. The user himself can at any time refer to the records of the electronic observation log for troubleshooting and monitoring the condition.
Secure Authentication
There is a secure authentication that ensures reliability and security on the Internet. The product is compatible with protocols such as RADIUS, LDAP, LDAPS, Windows AD, providing reliable protection on the Internet.
Compatible with ENVIROSENSOR
The remote control card can be integrated with the ENVIROSENSOR environmental sensor to collect temperature and humidity readings while allowing users to control up to four other connected devices such as door alarms and safety switches.
PowerPanel Business Software
The PowerPanel Management software can perform power management and soft shutdown of the system. This software is VMware Ready™ and compatible with VMware ESXi. It also supports Citrix XenServer and Microsoft Hyper-V. Recommended for small and medium project.
PowerPanel Enterprise Software
PowerPanel Management software is designed to monitor and manage power equipment, environment and energy consumption in a data center. It's easy to deploy and use, and offers real-time PUE, dynamic dashboards, periodic reports, and instant alerts to keep your data center up and running. Recommended for large scale project.
Main characteristics
Communication port
RJ45 , RJ45 (for environment sensor)
Software
PowerPanel Business (recommended for small and medium businesses),
PowerPanel Enterprise (recommended for large scale management)
Protocols
IPv4/v6, SNMPv1/v3, HTTP/HTTPs, TCP/IP, UDP, DHCP, NTP, DNS, SMTP, SSH, SSL, TLS, Telnet, FTP and Syslog
Authentication
RADIUS, LDAP, LDAPS, Windows AD
Supports ENVIROSENSOR
Yes
Compatibility
UPS series OL, OLS, PR, OR
Video