New generation of circuit breakers BA-103 from DEKraft
14.04.2023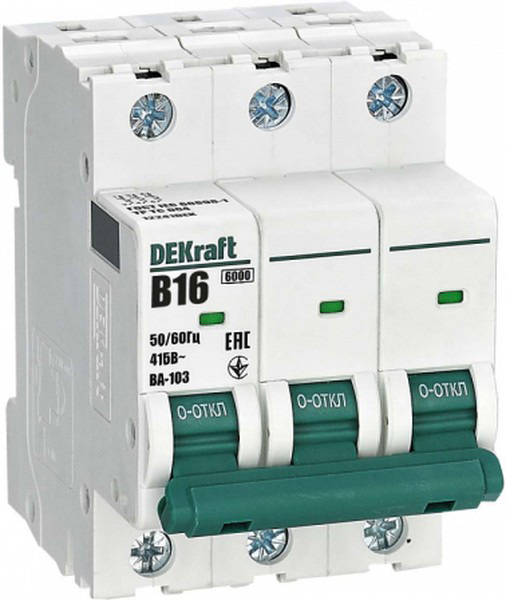 The new generation BA-103 is DEKraft's first modular circuit breaker with 6kA breaking capacity.
The novelty has the following features:
Monolithic front panel;
Window-indicator of position of contacts;
Ventilation channel;
5 monolithic rivets in the body;
A clear indication on the body of the device of the length of the stripped conductor and the tightening force;
5 years warranty.
Modular circuit breakers with PKS 6kA are widely used - from metering and distribution boards to main switchboards in a low-voltage power distribution system. The VA-103 series is made in a modern industrial design. The devices comply with domestic GOST IEC 60898 and industrial GOST IEC 60947. The range includes devices for rated currents from 1A to 63, tripping curves B, C, D, pole modifications from 1P to 4P. A range of accessories is also available.
Circuit breakers of the VA-103, VA-105 series received a certificate of conformity from the EAEU GOST TR TS 004/2011 according to the GOST IEC 60947-2 standard!
Now these devices comply with two standards:

GOST IEC 60898-1: Circuit breakers for overcurrent protection for household and similar purposes. Part 1. Automatic switches for alternating current.
GOST IEC 60947-2: Low voltage distribution and control equipment. Part 2. Automatic switches.
Compliance with the requirements of the GOST IEC 60947-2 standard will allow more efficient prescribing and use of VA-103 and VA-105 series modular circuit breakers for places with more severe operating conditions, including oil and gas, engineering and energy industries.