Laboratory power supplies Delta Elektronika B.V.
17.02.2022
Delta Elektronika BV is a manufacturer of professional power supplies . One of the main directions of the company is the development and production of laboratory power supplies. The company exists on the world market for more than 50 years. Source production plants are located in the Netherlands and Malta.
The main distinguishing features of Delta Elektronika BV laboratory power supplies :
low noise and ripple values;
high stability of the power supply when changing the input voltage and load;
high performance indicators (time for the power supply to reach the operating mode and its response to load changes);
high power factor;
high efficiency;
low noise level, as well as high noise immunity;
the ability to adjust the output parameters from zero to the nominal value;
work, both in the mode of constant current, and constant voltage;
availability of interfaces that allow remote control of power sources, monitoring and control of the main parameters of the power source;
Possibility of serial and parallel connection.
Delta Elektronika BV manufactures three main series of laboratory power supplies: ES, EST and SM series.
EST-Series Power Supplies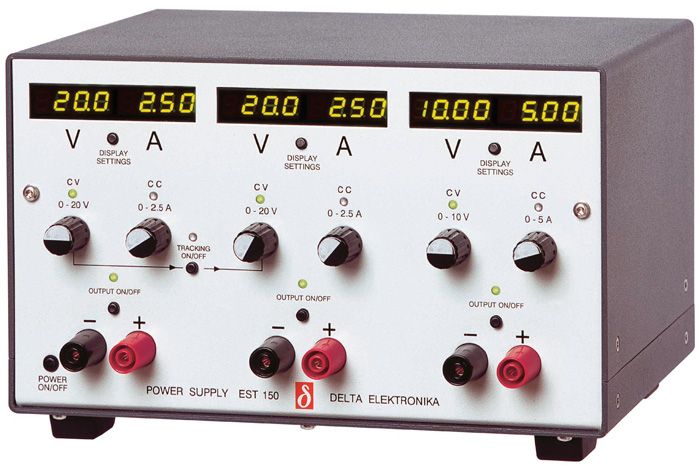 These are desktop voltage and current sources with a power of 150 W with three independent outputs, an output voltage range from 0 to 20 V and an output current range from 0 to 5 A. The source allows you to get various combinations of output voltages and currents depending on the connection scheme. It also allows you to enable and disable each channel individually.
ES-Series Power Supplies

The sources of this series have a power of 150 and 300 W, one output. Rated values of output voltages from 15 to 300 V. Rated values of output currents from 450 mA to 10 A. Adjustment of output current and voltage is carried out from zero to the nominal value. Unlike the EST series, this series has additional optional features, such as: control of the output voltage drop on the load associated with the length of the wire and the corresponding adjustment of the output voltage, external analog programming of output parameters, programming of output parameters via Ethernet, RS232, CANBUS and PROFIBUS.
SM-series power supplies

Sources of this series have power from 800 to 15000 W, one output. These are programmable laboratory power supplies, both desktop and 19" rack. Rated output voltages from 7.5 to 1500 V. Rated output currents from 2 to 450 A. The source also has a voltage feedback function, external analog programming of the output parameters and programming of output parameters through interfaces Compared to the ES series, these sources have the widest range of additional options that allow you to expand the functionality of the power source.
An important advantage of Delta Electronika BV is the flexibility of the solutions presented by this company, which is achieved due to the variety of individual optional features.
Fields of application of Delta Elektronika BV laboratory power supplies: scientific research, laboratory installations, test equipment. In addition to those listed above, applications such as the chemical industry, oil and gas industry, medical research, lasers, electronic component testing, and the aviation industry can be noted.
For all questions related to the purchase of Delta Elektronika equipment, please contact the sales department by e-mail: sales@chipdip.ru or by phone +7 495 544-00-08 .