Solid State Relays for Switching Heavy Loads HDH‑xx44.ZD3
16.09.2022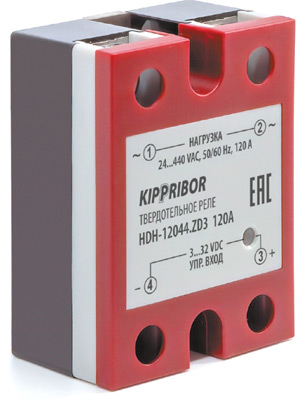 Single-phase general industrial solid-state relays (SSR) of the HDH-xx44.ZD3 series are designed for switching circuits of powerful loads in a single-phase or three-phase network.
High switching currents cause increased heat generation at the output element of the SSR, so their reliable and stable operation requires special design solutions that enhance the efficiency of heat removal.
The most modern solution today is the use of special output elements - SCR-type thyristors - semiconductor elements that are deposited by sputtering on a ceramic substrate, reliably connected to the copper base of the SSR. The combination of an SCR-type thyristor, a high thermal conductivity copper base and a recommended heatsink model guarantees reliable switching of circuits at high currents.
The built-in shunt output RC circuit increases the reliability of the SSR when switching an inductive type load. In this case, it should be borne in mind that the built-in RC circuit leads to the appearance of a leakage current in the load circuit. The magnitude of this current is very small, and does not have any effect on a powerful load. However, this is enough for the multimeter to show some voltage across the load connected to the relay. Thus, the presence of voltage on the load when the relay is off is not a sign of a relay malfunction.
Relays of the HDH-xx44.ZD3 series are capable of switching both resistive and inductive loads in a wide voltage range - from 44 to 440 V AC. It is allowed to use these relays in a power supply network with a rated voltage of 380V, provided that a varistor is used for overvoltage protection.
Relay connection diagram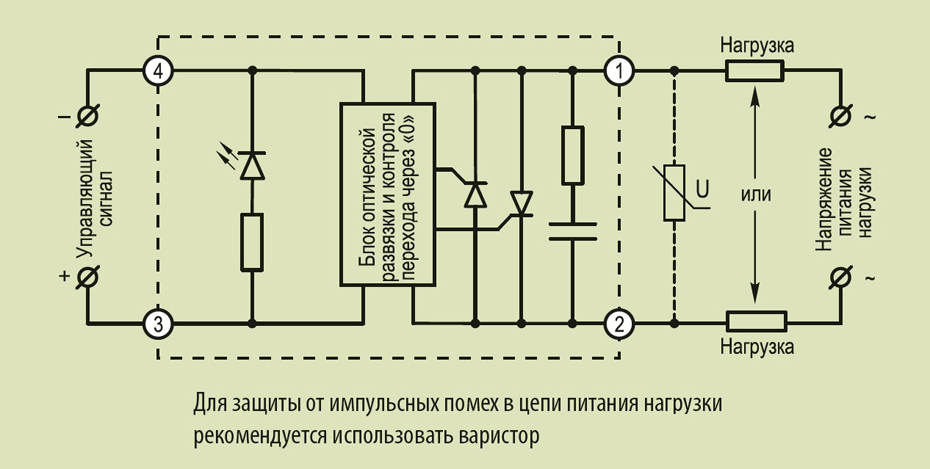 HDH-xx44.ZD3 series relays can be used for switching both single-phase and three-phase networks. The use of a separate SSR for each of the three phases increases the reliability of switching, and, consequently, of the entire control system as a whole.
Switching of a single-phase or three-phase load with any switching scheme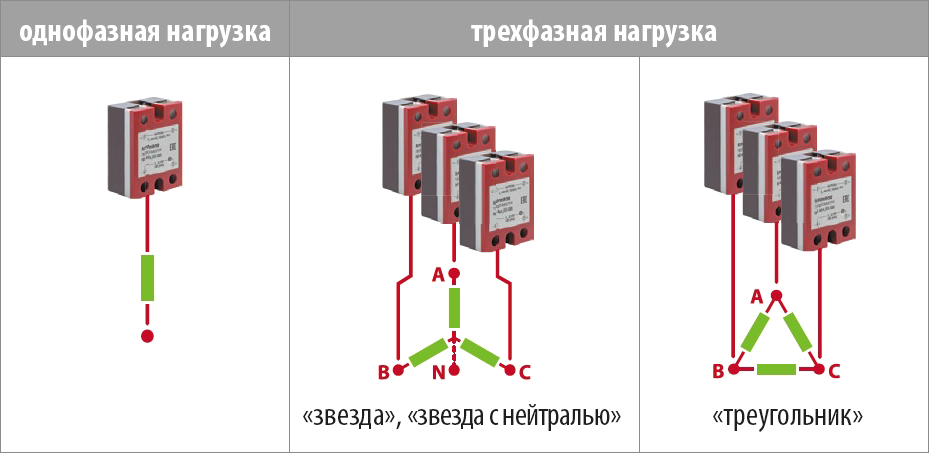 Recommended currents for each type of load
Overall and installation dimensions
Relays HDH-xx44.ZD3 are produced in a standard housing, which allows replacing less powerful relays with relays of this series without any modifications.