Thermostats KSD9700 from KLS for overheating protection
22.03.2023
Automatic control systems are one of the most demanded technical systems in industry, production, transport and at home. One of the most frequent tasks that automatic control systems solve is the task of maintaining the required characteristics depending on their state and external conditions. For example, in heat engineering, it is often necessary to maintain a stable temperature of some kind of liquid storage - a boiler or a boiler; in this automatic control system, temperature control devices such as thermostats are actively used.
Thermostats of the KSD9700 series with normally closed contacts manufactured by KLS, presented in our assortment, are used to protect electrical circuits and devices from overheating and / or maintain the set temperature of electric heaters.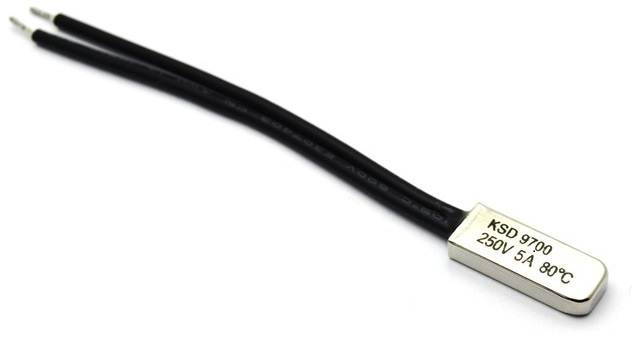 Appearance of the thermostat RSD9700
In the normal state, the thermostat contacts are closed. When the control object (electrical device or container) on which the thermostat is installed is heated above the nominal temperature, the thermostat contacts open and, accordingly, the electrical circuit opens. After some time, the device cools down to the nominal temperature of the thermostat, its contacts return to their original state, the circuit closes again.

Overall dimensions of KSD9700 thermostat
Technical parameters of thermostats
Rated voltage:

AC 250V

/

AC 125V,

Rated current:

5A~7A,

Closed contact resistance:

≤ 30mOhm

(conductive),
Open-circuit resistance:

≥ 100MOhm,

Number of operations:

up to 6000 times

(per resistive load).
More detailed technical characteristics are presented in Specifications for thermostats on the product page.