End screw clamps of the KZVI series
16.05.2023
Every electrician who performs electrical work knows that the most important part of the installation of electrical equipment is the connection of wires. The main requirements for such work are the creation of maximum conductivity between the wires, and the reliability of the joint. Failure to comply with these requirements can lead to overheating of the wire joints, to their damage, and, as a result, the possibility of a fire is very likely.
First of all, it should be understood that different types of compounds can be used in different conditions. And their choice depends on the specific task.
One of the most "ancient" types of connections is the use of screw insulated clamps (ZVI).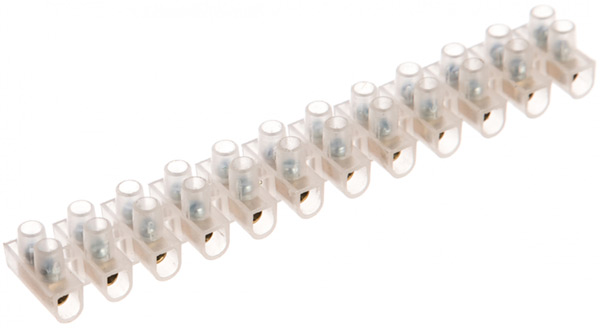 Clamp blocks are used in the creation of household and professional electrical wiring. Their use allows for simple and high-quality installation, safely connecting the required wires. The finished design is distinguished by its compactness. There is no need to use a specialized tool during installation. The finished connection can be easily disconnected, or the necessary reconnection can be carried out.
The end screw clamps of the KZVI pr-va of the Kaluga plant "KW" are a special case of using screw clamps of the ZVI. In fact, this is an ordinary clip, divided in half.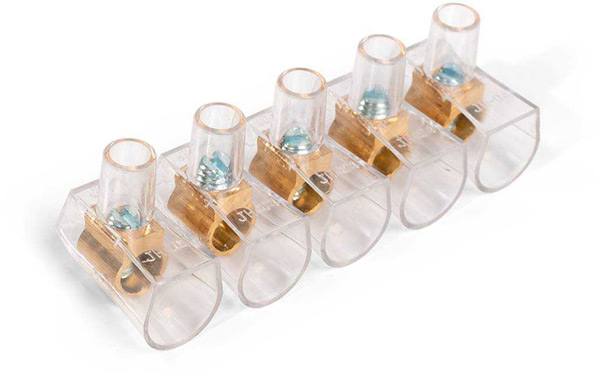 The "minus" of their use can be considered the impossibility of longitudinal connection of wires. But, as the name suggests, they are not intended for this. The QVI clamps are used specifically for the end sealing of the wire. At the same time, the volume of the joint is reduced by almost two times compared to conventional ZVI clamps. This circumstance is especially important when creating connections in junction boxes, cable ducts, etc. It is also possible to temporarily terminate wires in order to isolate the tip of the wire.
The clamp body is made of polycarbonate, which allows the use of clamps at a voltage of up to 400V. The material of the connectors is brass of the LS58-2 brand with electrolytic tinning. The screws are made of steel, which allows for the possibility of their repeated use.
The clamps involve the installation of both copper and aluminum cables with solid or multi-wire cores.
At the same time, it must be remembered that according to GOST 10434-82 - "For conductors with a cross section of up to 1.5 mm2, it is not allowed to use a screw clamp, the end of the screw of which turns along the core." In such cases, it is necessary to additionally use sleeve tips to fix the cable with a screw.
Dimensional parameters of the QVI clamps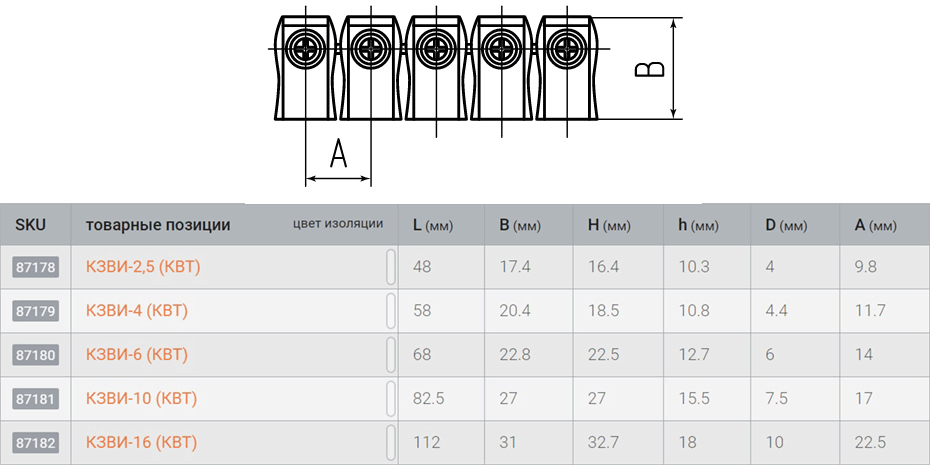 The main characteristics of the QVI clamps
SKU
Name
Operating voltage,

up to (kV)Core cross-section, mm2

Material of the contact part
Insulation color
Installation technology
87178KZVI-2.5
0,4
2,5
Brass
Transparent
Screw clamp
87179KZVI-4
0,4
4
Brass
Transparent
Screw clamp
87181KZVI-10
0,4
10
Brass
Transparent
Screw clamp
87182KZVI-16
0,4
16
Brass
Transparent
Screw clamp