MEAN WELL DRS-240 Series Multifunctional Power Supply
16.02.2023
In a number of critical applications, the power supply system, in addition to its main function - providing power to the load, must also implement additional functions, for example, ensuring uninterrupted power supply to the load or monitoring the state of the input and / or output circuit. In this case, in addition to the power source itself, it is also necessary to additionally use other devices and modules that can meet these requirements. Therefore, devices that allow you to combine part or all of the required additional functionality are in particular demand, as an example, here you can cite power supplies with the UPS function . Therefore, MEAN WELL has developed a multifunctional power supply of the DRS series, which can be used in various ways depending on the task.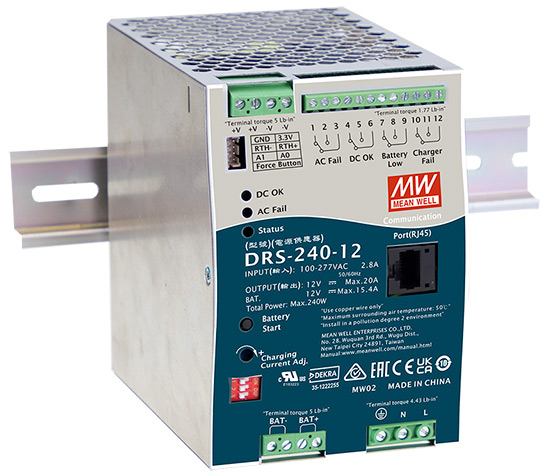 Appearance of power supply units of the DRS-240 series
The DRS-240 series power supply is an All-In-One DIN rail AC/DC converter - power supply, battery charger, DC UPS, circuit status monitor and battery batteries (batteries). The output voltage is optimized for use with rechargeable batteries - 12, 24, 36, 48V, the nominal power of power supplies in the series is 240W. Schematically, a multifunctional device according to the type of conversion and possible connections can be represented: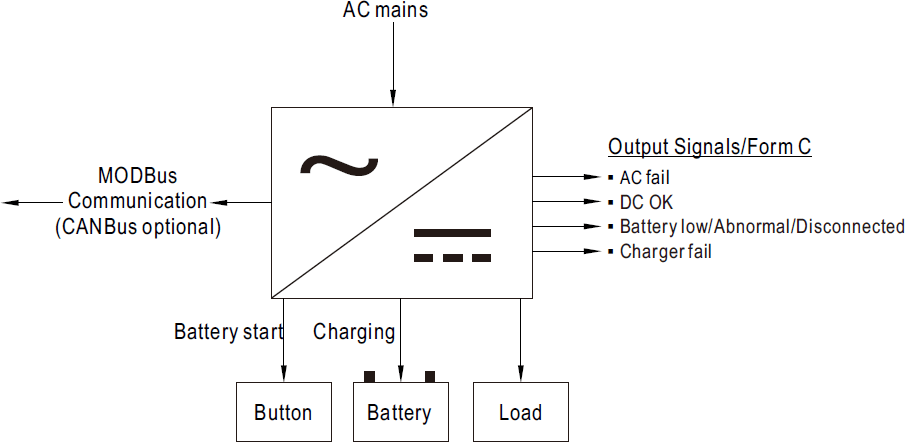 The functionality of the power supply DRS-240
Power supplies of the DRS-240 series have a built-in Power Factor Corrector (PFC), a built-in MODBus data transfer protocol, all the main types of protection, including protection against reverse polarity when connecting the battery and protection against deep battery discharge. When used as a charger, the DRS-240 power supply has the ability to select the type of charging curve (2 or 3 charge stages), and it is also possible to connect the charger programmer SBP-001 to configure the charge parameters. The preset charge curve values are optimized for use with the main types of batteries - lead-acid, including gel and AGM, as well as lithium-ion. A high level of maximum charge current, as well as the ability to adjust it over a wide range (from 20 to 100%), allows the use of batteries of various capacities - from 5 to 200Ah, depending on the DRS-240 model.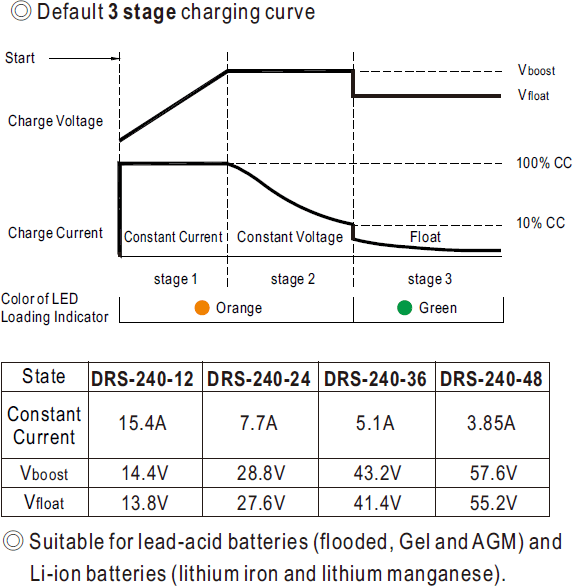 Charging Curve Presets
The most popular power supplies from the DRS-240 series are two models with the following characteristics:
Characteristic
DRS-240-12
DRS-240-24
Exit
Output voltage
12V
24V
Output current
0…20A
0…10A
Maximum battery charge current
15.4A
7.7A
Battery charge current adjustment
20%...100%
Entrance
Input voltage
90…305V (AC) 127…431V (DC)
Power correction factor
0.95 (230VAC) 0.98 (115VAC) at full load
Efficiency
90%
92%
The DRS-240 series power supplies can be used in security, emergency lighting, public address systems, uninterruptible power supply systems, monitoring systems, industrial automation and other applications.
The main technical characteristics and features of the DRS-240 series power supplies:
Extended input voltage range: 90…305V (AC), 127…431V (DC).
Rated output power (total for all channels) must not exceed: 240W.
Standard output voltages: 12, 24, 36, 48V.
Built-in power factor corrector (Power Factor Corrector).
Multifunction device: power supply, battery charger, UPS (DC), input and output circuit status monitor, batteries.
Built-in data transfer protocol: MODBus.
Protection: against short circuit, overload, overvoltage, overheating, against reverse polarity when connecting the battery, deep discharge of the battery.
Types of batteries used: lead-acid, lithium-ion.
Extended operating temperature range: from -30°S to +70°S.
Cooling due to natural ventilation.
Warranty period 3 years.
For more technical specifications, see Specifications for DRS-240 series power supplies, and for questions related to the selection and use of MEAN WELL products, please contact Meanwell@chipdip.ru .