Expansion of the LRS series of low profile power supplies from MEAN WELL
12.12.2022
The first power supplies of the LRS series were released by MEAN WELL in 2014. Since then, the LRS family (LRS-35…LRS-350) has become one of the most popular and sought-after standard industrial power supplies due to its stable performance, high quality and optimal price-performance ratio. In order to meet the needs and expectations of consumers, MEAN WELL has developed new higher power series in the LRS family, namely LRS-450 and LRS-600 .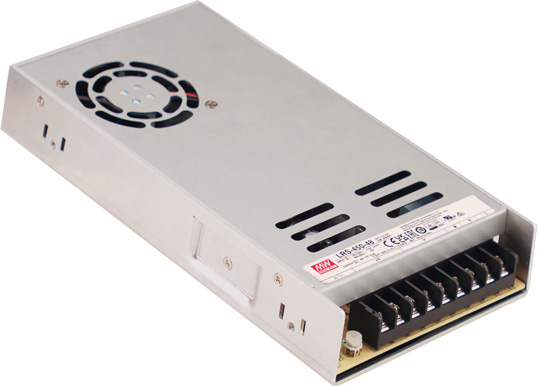 Appearance of LRS-450 Series Power Supply
The power supplies are fully compliant with international safety regulations as defined by TUV / UL / CE / BIS regulators and others. Circuit solutions patented by MEAN WELL, aimed at increasing the degree of assembly automation and reliability of the devices themselves, at the same time make it possible to ensure the low cost of power supplies of the LRS-450 and LRS-600 series.
The power supplies of these series are AC/DC type converters, they are resistant to increased input voltage up to 300 V (up to 5 seconds) and vibration up to 5G; built-in protection against short circuit, overload, overvoltage and overheating. The power supplies are equipped with a fan for forced cooling with automatic switching on and off according to the specified temperature thresholds. The Power Factor Corrector (PFC) is not available on these power supplies.

LRS-600 Series Power Supply Block Diagram
The manufacturer recommends using power supplies of the LRS-450 and LRS-600 series to replace the discontinued units of the SE-450 and SE-600 series.
These series power supplies are suitable for use in process control, industrial automation, electromechanical systems, electronic equipment and apparatus, and home appliances.
Specifications
Input voltage range: 90…132 VAC / 180…264 VAC (with manual switching).
Output voltage range: 5, 12, 15, 24, 36, 48V - both series; 27V in the LRS-600 series.
Rated output power: 450W - LRS-450 and 600W - LRS-600.
Output voltage regulation (built-in potentiometer): -5/+10%.
Efficiency: up to 92%.
Ventilation: built-in cooling fan with auto on and off.
Operating temperature range: -20…+70°S for LRS-450, -20…+65°S for LRS-450.
Low profile 1U. Case height: 35mm for LRS-450, 41mm for LRS-600.
MTBF

> 1 million hours.

3 years warranty.