Pulse analogues of popular DC / DC converters of the 78xx series from MEAN WELL
17.01.2022
The range of DC / DC converters from MEAN WELL has received a novelty - converters of the N78 series. The N78 series DC/DC converters are switching analogs of the very popular LDO (low-dropout) linear type regulators of the LM78xx/LM79xx series. Unlike the original LM78xx/LM79xx series LDOs, N78 series inverters are switching converters, so they have much higher efficiency and do not require a heatsink for large load current. In order to expand the possible applications, MEAN WELL produces the N78 series converters in four versions - for horizontal and vertical placement, as well as in a plastic case with a compound and with wire leads.
Types of execution of pulse converters of the N78 series
Depending on the switching scheme, the N78 series converters can be a direct replacement for the LDO regulators of the LM78xx series (with the direct polarity of switching on N78) for voltages - 3.3, 5, 9, 12, 15V, and when switched on in reverse polarity, a replacement for the LM79xx series for voltages - 5, -12, -15V. At the same time, the switching circuits of the converters are fully consistent (pin-out compatible) with similar switching circuits LM78xx / LM79xx.
Typical switching circuits for direct and negative polarity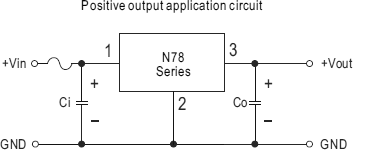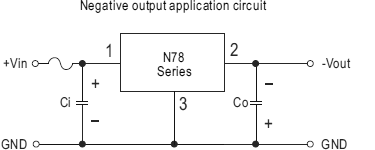 The N78 series DC/DC converters have the following features: extended input voltage range (from 6 to 36V depending on the model); 4 types of execution, including in a plastic case with compound filling (modifications C/CW); high efficiency (88-96%); no need to use a heatsink to dissipate heat; wide temperature range of use (-40…+85°S).
The N78 series converters can be used in almost all applications using the LM78xx/LM79xx series LDO regulators, as well as in power supplies, industrial PCs, digital TV set-top boxes, data transmission systems, microcontroller-based devices and distributed power systems.
Main technical characteristics and features of N78 series DC/DC converters
Extended input range: 6 to 36V (nominal 12V and 24V depending on model).
Standard output voltages: 3.3, 9, ±5, ±12, ±15V.
High output current: 0…1000mA (for switching in direct polarity); 0 ... 500mA (for switching in reverse polarity).
Compact size.
Pin-to-pin compatible with LM78xx/LM79xx series linear regulators.
High efficiency: up to 96%, without additional cooling radiator.
Operating temperature: -40 ...+85°C.
Types of protection: against short circuit, overload, overheating.
Low noise and ripple.
Warranty period 3 years.
More detailed technical characteristics are presented in the Specification for the N78 series, and for questions related to the selection and use of MEAN WELL products, please contact Meanwell@chipdip.ru .