PD-25/45/65 Series - MEAN WELL Low Power Open Type Dual Output Power Supplies
03.11.2022
One of the most common tasks in practice is to provide power to different functional parts of one device with separate nominal voltages, for example, the microcontroller and logic circuit should be powered by +5V, and the actuators (relays, indication, etc.) by +12V DC. In this case, in order to optimize the cost of the final device, it is advisable to use power supplies with two or more outputs.
In the category of open-type power supplies that are installed in the case of one complete device, MEAN WELL has developed a series of low-power power supplies from 25 to 65W - PD-25 , PD-45 , PD-65 with two outputs. In all three series, the first channel has an output voltage of +5V, and the second channel, depending on the model in the series, can have a value of +12V, +24V. Separately, the PD-25 series has three models with +5/-5V output channels; +12/-12V and +15/-15V.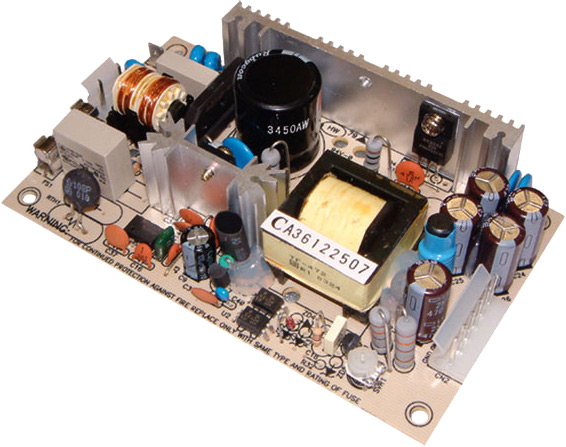 The appearance of the open-type power supply PD-45
The first key feature of power supplies with two outputs is the impossibility of organizing the operation of each output without a load (with a current of 0A), therefore, an important requirement is the presence of a minimum load on each channel with a current value not lower than that specified in the Specification (highlighted in red):

Minimum load requirements on the example of PD-65
The second key feature is the absence of galvanic isolation between the output channels, since in fact they are taps from one secondary winding of a pulse transformer with one common output. Therefore, when designing the power supply system of the end device, this feature should also be taken into account.

Block diagram of a dual output power supply
Output voltage ratings for multi-output power supplies are specified in the order of the outputs. For almost all series of two output power supplies of the PD-25/45/65 series, the first output (channel) is +5V, and it is the main one (exception for only two models in the PD-25 series). Also, it is on the first channel that the maximum power of the power source is given out and it is possible to adjust its output voltage value within small limits using a tuning resistor (PD-45 and PD-65 series). The sum of the required maximum powers on both channels must not exceed the total output power for each model.
More detailed technical characteristics are presented in the Specifications for the PD-25/45/65 series, and for questions related to the selection and use of MEAN WELL products, please contact Meanwell@chipdip.ru .