PLP-60 Series - Medium Power Recessed Power Supplies for LED Lighting from MEAN WELL
23.01.2023
The creation of LED luminaires requires a clear understanding of the operating conditions, which, in turn, determine the set of requirements for both the power source of such a luminaire and the luminaire body, where all its components will be placed. Therefore, in some cases, it is advisable to use an open-type power supply (for example, an AC / DC converter) for an LED lamp - for better cooling and / or minimizing the space occupied. To solve this problem, MEAN WELL releases a line of PLP series power supplies.
The PLP-60 series AC/DC converter is a power supply in the form of a finished device - a printed circuit board with installed components and cooling radiators. The input voltage is supplied and the output voltage is removed through specialized connectors installed on the printed circuit board of the converter, which makes it possible to make convenient and aesthetic installation of power wires inside the finished luminaire without additional transitional connections. Mating connectors for PLP-60 are not included in the scope of supply and must be purchased separately.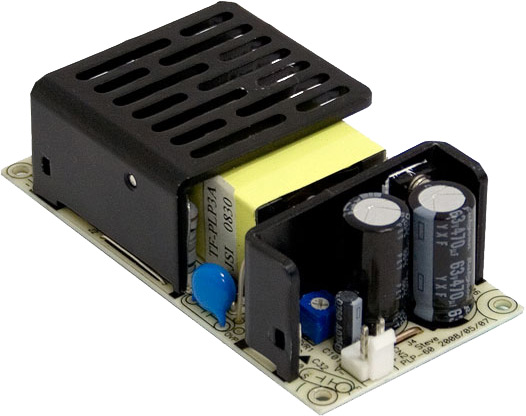 Appearance of the PLP-60 power supply
The PLP-60 series has a rated power of 60W, which makes it a medium power supply (medium for LED applications). The PLP-60 power supplies are designed for use on an AC network with a full voltage range from 90 to 264V, which allows these converters to be used in a wide range of recessed fixtures and power supply network parameters. Output voltages are also most applicable in the power supply of LED strips and lamps based on them: 12, 24, 48V.
Power supplies of the PLP-60 series are distinguished by high reliability, low cost, the presence of a built-in power factor corrector (PFC) and cooling due to natural ventilation. Converters have all the main protection against failure - from short circuit, overload, overvoltage. The input and output connectors in the power supply are used from the manufacturer JST, information on which is given in the Specification for the PLP-60 series (details on our website ):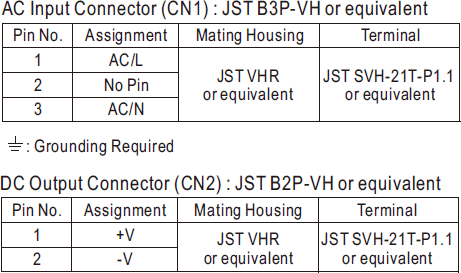 Information on the connectors used in the PLP-60 power supply
Main technical characteristics and features of PLP-60 series AC/DC converters
Extended input range: 90 to 264 V (AC); 127 to 370 V (DC).
Maximum output power: 60W.
Standard output voltages: 12, 24, 48V.
Built-in power factor corrector KKM.
Adjustment of the maximum output current level.
Cooling behind the light of natural air convection.
Working temperature: -30...+70°C.
Types of protection: against short circuit, overload, overvoltage.
Warranty period 2 years.
For more detailed technical specifications, please refer to the PLP-60 Series Specification. For questions related to the selection and use of MEAN WELL products, please contact Meanwell@chipdip.ru .