MEAN WELL SGA12E Narrow Case Network Adapters
10.04.2023
Network adapters are one of the most common types of power supplies. They are a remote power supply connected to the device via the power connector. Since one of the purposes of using AC adapters is to power a wearable or mobile device to charge the built-in battery, the AC adapter is called "charging" in domestic use, although, strictly speaking, it is not a full-fledged charger.
The network adapter of the SGA12E series is an AC/DC converter (power supply) made as a ready-made device in a plastic case with a built-in Euro plug. It is connected to the power supply network 220V AC of the European standard. The SGA12E-USB modification has a USB-type output connector (type A) for connecting a USB cable (purchased separately), and all other modifications of the SGA12E series adapters have an output wire with a DC connector (5.5x2.1 mm).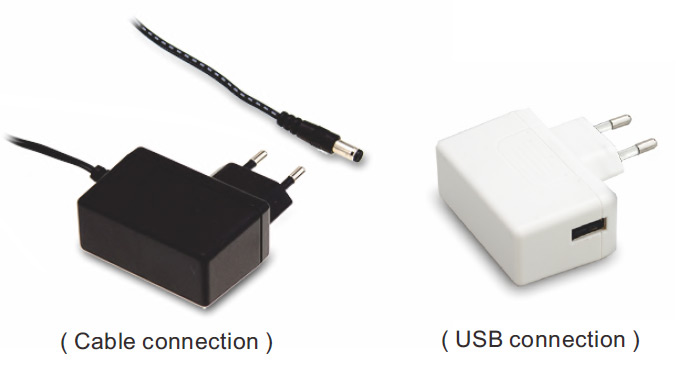 Appearance of network adapters of the SGA12E series
SGA12E series adapters have a rated power of 12W, which allows them to be classified as low-power power supplies. The SGA12E series network adapters are designed for use on AC power in the full voltage range from 90 to 264V, which allows these power supplies to be used in a wide range of user devices and power supply parameters. The range of output voltages is also very wide: 5, 7.5, 9, 12, 15, 18, 24, 48V.
The SGA12E series power supplies have a narrow body, built-in power plug, class II protection against electric shock (no ground contact), low self-consumption (<0.075W), energy efficiency level VI. Network adapters have all the main protection against failure - from short circuit, overload, overvoltage. The P1J output connector has typical overall dimensions of 5.5x2.1 mm and the standard pin assignment is a positive internal terminal.

Output connector and pin assignment
SGA12E series network adapters are general purpose power supplies, and can be used to power a wide range of devices - consumer and consumer electronics, telecommunications devices, office equipment, industrial devices, security systems, network equipment and other devices.
Main Specifications and Features of SGA12E Series Network Converters
Extended input voltage range: 90 to 264 V (AC).
Rated output power: 12W.
Standard output voltage range: 5, 7.5, 9, 12, 15, 18, 24, 48V.
Narrow body with built-in Euro plug.
Fully enclosed plastic housing.
High efficiency: up to 86%.
Operating temperature: -20...+60°C.
Types of protection: against short circuit, overload, overvoltage.
Warranty period 3 years.
For more technical specifications, see Specifications for the SGA12E series on the product page. For questions related to the selection and use of MEAN WELL products, please contact Meanwell@chipdip.ru .