SMU01 series is a series of low power DC/DC converters on PCB from MEAN WELL
07.03.2022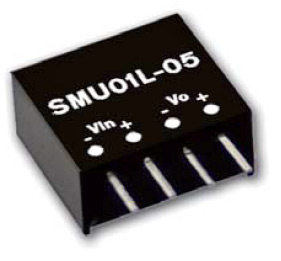 DC / DC converters represent a fairly large and actively developing segment of the power supply market. So DC/DC converters of low power (1-3W) allow to localize the power supply of individual nodes and parts of the circuit, while providing stable and/or power supply parameters independent of the main power source for this section. MEAN WELL offers a wide range of DC/DC converters of modular type for installation on a printed circuit board, fully compatible with other manufacturers of such converters both in terms of overall dimensions and pin arrangement, as well as their name (Pin-to-Pin compatible).
The SMU01 DC/DC converter series is a series of converters of modular type, with the arrangement of contacts in one row (SIP package), unregulated type (Unregulated device), for installation on a printed circuit board. By the combination of characteristics, the modules of the SMU01 series are an effective solution for supplying power to additional (auxiliary) circuit nodes that do not require stability of the supply voltage, with galvanic isolation from the main power source. The installation is made entirely on the basis of SMD components, which ensures the minimum dimensions of the modules, their high reliability and low cost.
Features of DC/DC converters of the SMU01 series are parameters unique for this series – small-sized case, arrangement of contacts in one row (Single-in-line package, SIP), basic input voltage ranges (5, 12, 24V), standard output voltages (5 , 9, 12, 15V), rated output power, standard pinout (Industry standard pinout) and others. The overall dimensions of the modules on the SMU01 series printed circuit board and the pin assignment are shown in the figure.
Overall dimensions and pin assignment of SMU01 modules

The SMU01 series PCB modules do not have a special purpose, and can be used as general purpose DC/DC converters in almost any field of application - automation, industry, telecommunications and others.
Main technical characteristics and features of SMU01 series DC/DC converters
Input voltage ranges: three nominal ranges 5, 12, 24V DC.
Standard output voltages: 5, 9, 12, 15V.
Rated output power: 1W.
Isolation voltage (input-output): 1500V (DC).
Enclosure type: SIP package.
Internal installation: SMD components.
Built-in EMI filter.
Typical pin assignment (Industry standard pinout).
Cooling due to natural ventilation.
Warranty period 2 years.
For more technical specifications, see Specifications for DC/DC converters SMU01 series, and for questions related to the selection and use of MEAN WELL products, please contact Meanwell@chipdip.ru .