SPV Series - Medium Power Supply with Programmable Output from MEAN WELL
26.10.2022
In a number of applications, the programmable output function may be required for power supplies of not only large, but also medium power. The programmable output function is a way to set (set) the output voltage level of the power supply using an additional regulator or external circuit. For the SPV power supply series, the programmable output function is dependent on the voltage level of an external DC voltage source.
Case-type power supplies with a programmable output of the SPV series are available in two output power ranges - 150 and 300W, that is, they belong to medium-power power supplies. The SPV series are rated according to their rated power: SPV-150 and SPV-300. The output voltage of the model is selected from a range of standard voltages - 12, 24, 48V, which, taking into account the allowable range of setting the output voltage (from 20% to 110% in each model), completely covers the range of voltages from 2.4V to 52.8V, and it is permissible to set any non-standard value of the output voltage over the entire range.
An external DC voltage source is connected to a dedicated PV terminal on the power supply terminal block: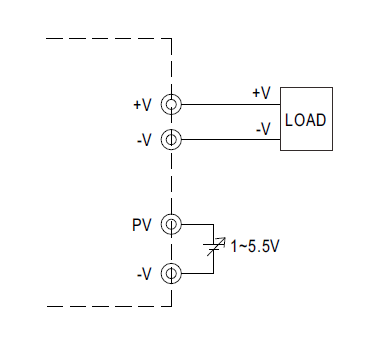 Wiring diagram for external voltage source in SPV series
The range for setting the output voltage level is determined by the limits from 20% to 110% of the level of the nominal value of the output voltage when the level of the external DC voltage source changes from 1V to 5.5V. The dependence itself is not strictly linear, it is schematically presented in the graph: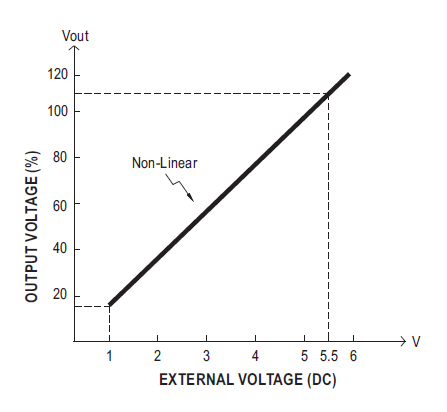 Graph of output voltage versus voltage level at PV input
The SPV series box-type power supplies are general purpose power supplies that can be used in almost any field - industry, telecommunications, automation and any other application.
The main technical characteristics and features of AC / DC converters - power supplies with a programmable output of the SPV series:
Extended input voltage range: 88-264V AC (124-370V DC).
Built-in Active Power Factor Corrector (PFC): PF>0.94 for SPV-150, PF>0.95 for SPV-300.
Standard nominal output voltages: 12, 24, 48V.
Rated output power: 150W for SPV-150, 300W for SPV-300.
Wide temperature range: -20°S…+65°S.
Standard set of protections: short circuit, overload, overvoltage, overheating.
Output Voltage Programmable function: 20% to 110% from external 1-5.5V DC voltage source.
Remote control function.
Cooling: due to natural ventilation (SPV-150 series); using the built-in fan - SPV-300 (with automatic speed control).
Warranty period 3 years.
More detailed technical characteristics are presented in the Specification for the SPV power supply series, and for questions related to the selection and use of MEAN WELL products, please contact Meanwell@chipdip.ru .