Raspberry PI Single Board Computer Alternative
12.05.2022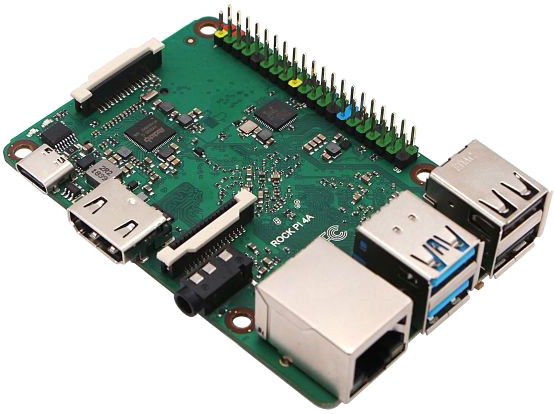 The new ROCK Pi 4 Model A 4GB is a single-board computer in the form factor of Raspberry Pi and ASUS Tinker based on a 6-core Rockchip RK3399 processor combined with 4GB of RAM.
The main advantage of ROCK Pi 4 is hardware compatibility with various expansion boards for Rasperry Pi, including official ones, such as the official Raspberry Pi Touchscreen Display 7" or the Raspberry Pi Camera V2 . Compatible with Android and some Linux distributions.
The main difference between ROCK Pi 4 and Raspberry Pi is higher performance and an interface for connecting an SSD drive.
For heavy loads on the processor, it is recommended to use the official cooler - Heatsink for ROCK Pi 4 A / B , and to connect the drive, an expansion board - ROCK Pi M.2 extend board .
Comparison of ROCK Pi 4A with the latest
Raspberry Pi

models
| Model | Raspberry Pi 3B+ | ROCK Pi 4A 4GB | Raspberry Pi 4B 4GB |
| --- | --- | --- | --- |
| SoC | Broadcom BCM2837B0 | Rockchip RK3399 | Broadcom BCM2711 |
| core-cores | 4 × Cortex-A53@1.4GHz | 2 × Cortex-A72@1.8 GHz | 4 × Cortex-A72@1.5GHz |
| Extra-kernels | - | 4 × Cortex-A55@1.4GHz | - |
| GPU | Broadcom VideoCore IV | Mali T860 MP4 | Broadcom VideoCore VI |
| RAM type | LPDDR2 | LPDDR4-3200 | LPDDR4-3200 |
| RAM | 1 GB | 4 GB | 4 GB |
| Data storage | microSD | microSD, M.2 NVMe | microSD |
| USB Type A | 4 x USB 2.0 | 2 x USB 3.0, 2 x USB 2.0 | 2 x USB 3.0, 2 x USB 2.0 |
| Video | Full size HDMI, MIPI DSI | Full size HDMI, MIPI DSI | 2 × Micro-HDMI, MIPI DSI |
| Audio | 3.5mm Jack | 3.5mm Jack | 3.5mm Jack |
| GPIO interfaces | UART, I2C, SPI, PWM; 17 x GPIOs | UART, I2C, I2S, PCM/PWM, S/PDIF, ADC; 6 x GPIOs | UART, I2C, SPI, PWM; 17 x GPIOs |
| Add. interfaces | MIPI CSI | MIPI CSI, RTC battery | MIPI CSI |
| LAN (RJ-45 connector) | 1 x Gigabit Ethernet | 1 x Gigabit Ethernet | 1 x Gigabit Ethernet |
| WLAN | WiFi 5, Bluetooth 4.2 | - | WiFi 5, Bluetooth 5.0 |
| Food | Micro USB: 5 V, 2.5 A | USB Type C: PD 2.0 or QC 3.0/2.0 (up to 18W) | USB Type C: 5V 3A |
| Dimensions | 85×56×17mm | 85×54×17 mm | 85×56×17mm |