Temperature operating conditions of TDK electrolytic capacitors
06.02.2023
Aluminum electrolytic capacitors , due to their properties, technical characteristics and cost, are one of the most demanded and popular types of capacitors. Knowing the features of their design and, accordingly, operation, allows you to make an adequate choice when designing the final device, as well as to ensure its highest quality and long-term operation. One of the factors significantly affecting the characteristics of electrolytic capacitors is the operating temperature.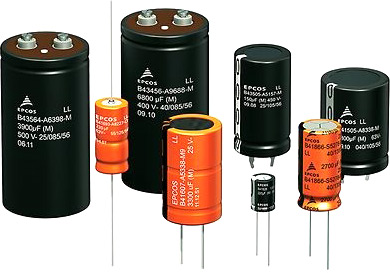 Appearance of TDK Aluminum Electrolytic Capacitors
The capacitance of electrolytic capacitors is not a constant value and depends on external conditions. With a decrease in temperature, the capacity of the electrolyte increases, which leads to a decrease in the capacity of the capacitor itself. The dependence of capacitance on temperature can be represented as: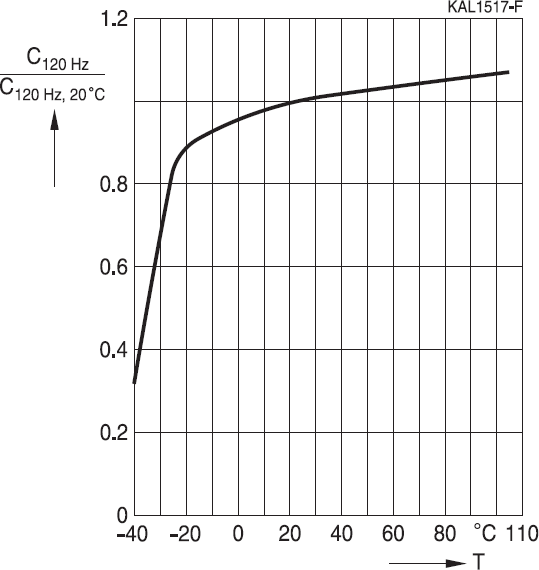 Normalized dependence of capacitance on temperature
A decrease in temperature leads to a decrease in the conductivity of the electrolyte and, accordingly, to an increase in its resistance. The result is an increase in the impedance and loss tangent (or equivalent series resistance ESR) of the capacitor. Since in most cases an increase in these parameters is only allowed up to a certain limit (since these are normalized parameters), the minimum allowable operating temperatures are set for aluminum electrolytic capacitors, called the lower limit of the temperature range. A typical impedance versus temperature for a capacitor with a lower temperature range of -25°C is shown in the figure: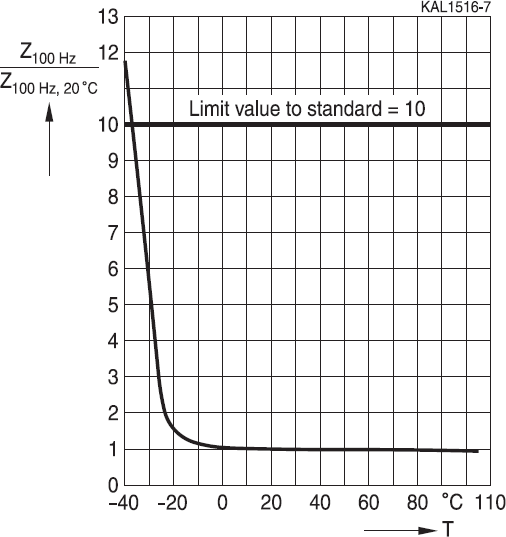 Normalized dependence of impedance on temperature
The upper limit of the temperature range is the maximum allowable ambient temperature at which continuous operation of the capacitor is guaranteed. It depends on the design features of the capacitor, exceeding this temperature can lead to premature failure of the capacitor. Thus, the most popular are capacitors with temperature ranges (along the upper limit) for general use +85°C and for responsible use +105°C , as well as capacitors for automotive applications, with the most severe operating conditions +125°C.
Capacitors of some series are able to withstand temperatures above the upper limit for short periods of time. Since service life and reliability decrease with increasing temperature, operation at a lower temperature is recommended whenever possible. For the same reason, when placing aluminum electrolytic capacitors in equipment, the coolest places should be chosen.
Of particular note are storage temperature recommendations - although aluminum electrolytic capacitors can be stored without voltage at temperatures up to the upper end of the temperature range, higher storage temperatures can reduce leakage current stability, life and reliability. In order to avoid deterioration of parameters, it is not recommended to store capacitors at temperatures above +40°C and it is desirable that the temperature be below +25°C. There is no such recommendation for the lower temperature limit, and TDK/EPCOS capacitors can be stored without degradation down to the lowest temperature setting of -65°C.
More detailed technical characteristics, including temperature conditions of operation and storage, of TDK aluminum electrolytic capacitors can be found in the Specifications on the product page.