TDK SNAP-IN Hybrid Polymer-Aluminum Electrolytic Capacitors
24.01.2022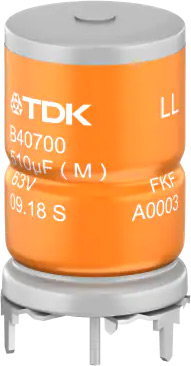 TDK's range of polymer-aluminum hybrid electrolytic capacitors has been expanded with the new B40700 series snap-in hybrid electrolytic capacitors . Such capacitors have special-shaped terminals - latches, which provide tight contact between the component and the pad in the mounting holes, with additional terminals to increase the reliability of holding the component on the printed circuit board. According to the installation features, such capacitors are called multi-terminal (multi-pin) snap-in capacitors.
Hybrid polymer-aluminum electrolytic capacitors have two key advantages - they have a very low equivalent series resistance (Equivalent Series Resistance - ESR) and, accordingly, a very high (compared to conventional electrolytic capacitors) allowable ripple current.
Key Features and Differences of Hybrid Polymer Capacitors

Equivalent series resistance (ESR) has been significantly reduced by combining a highly conductive polymer and liquid electrolyte. In addition, this technology provides another advantage over polymer-only capacitors: hybrid polymer-aluminum electrolytic capacitors have self-healing properties - defects in the oxide layer of the dielectric undergo re-oxidation. Thus, the new capacitors have higher dielectric strength, thermal stability and durability compared to traditional aluminum polymer capacitors.
The most widely used capacitors of this type are in automotive and industrial applications, for example: bidirectional converters for 48V electric vehicles, inverters for motors of electric vehicles or hybrid vehicles, electrically controlled steering systems, pumps, electric vehicle turbochargers, cooling fans, transmission control and output filters of switching power supplies.
Comparison of a snap-in hybrid polymer capacitor with other types of capacitors

The use of hybrid polymer-aluminum electrolytic capacitors allows you to save space on the board due to their features, replacing several capacitors of another type with one SNAP-IN capacitor.