Latest Tektronix 5B Series Mixed Signal Oscilloscope
28.01.2022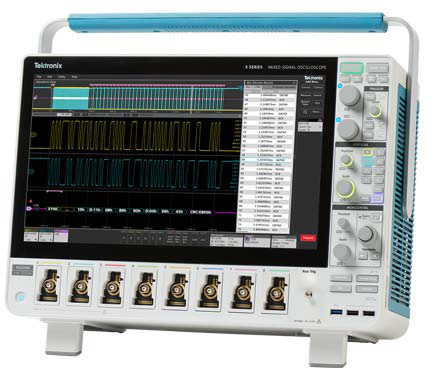 On January 11, 2022, Tektronix Inc., announced the release of the latest version of its award-winning 5 Series Mixed Signal Oscilloscope (MSO). unique spectrum analysis capabilities and flexible signal access valued by engineers around the world.
With the performance and reliability of the original 5-Series oscilloscope, Revision B instruments: MSO54B , MSO56B , MSO58B offer customizable enhancements, starting with a new auxiliary trigger input that allows you to trigger the oscilloscope to an external signal without taking up any of the four, six, or eight full-featured inputs. channels. The maximum output frequency of the built-in arbitrary waveform generator and standard functions has increased from 50 MHz to a best-in-class 100 MHz, which allows you to apply higher frequency test signals, for example, for Bode plotting or impedance measurements. These new features are invaluable for quickly and thoroughly checking power quality.
To meet the needs of engineers working remotely outside the lab, the new 5V mixed signal oscilloscope works with new software tools for offline analysis and cloud storage. TekScope™ PC software lets you analyze waveform data anywhere, without being tied to the instrument itself. Built-in instrument controls allow you to save data to TekDrive cloud storage with the click of a button. Users can easily save waveforms to the cloud, which facilitates the successful collaboration of specialists scattered around the world.
The faster processor makes the controls even more responsive and will support more complex measurement analysis in the future.
Additional functionality includes:
A new, brighter display that provides greater clarity by showing the fine details of the signals received from the instrument's 12-bit ADCs.
An archive mode that uses the extended memory of the 5 B-Series oscilloscope, allowing thousands of trigger events to be saved and then easily browsed to find events of interest.
Removable solid state drive that stores all user data. Required for secure laboratories where it is important to ensure the secrecy of measurement results.
Version B is a modification of the original 5-series mixed signal oscilloscope, which was released in 2017 and is appreciated by engineers for its large display and thoughtful integration of the user interface with a touch screen that supports pinch and stretch, drag and swipe gestures. The Original 5 Series and 5 V Series come with high-impedance passive probes up to 1 GHz bandwidth and support a wide range of probes such as power rails and IsoVu™ optical isolation probes that are immune to common mode noise.
Since the release of the original 5 Series, Tektronics has released 16 firmware updates. Each adds new capabilities that together enhance the instrument's measurement capabilities in areas such as serial protocol decoding, motor drive analysis, and RF spectrum analysis.
For all questions related to the purchase of Tektronix equipment, please contact the sales department by e-mail: sales@chipdip.ru or by phone +7 495 544-00-08.