Special price offer for Tektronix TBS equipment
27.01.2022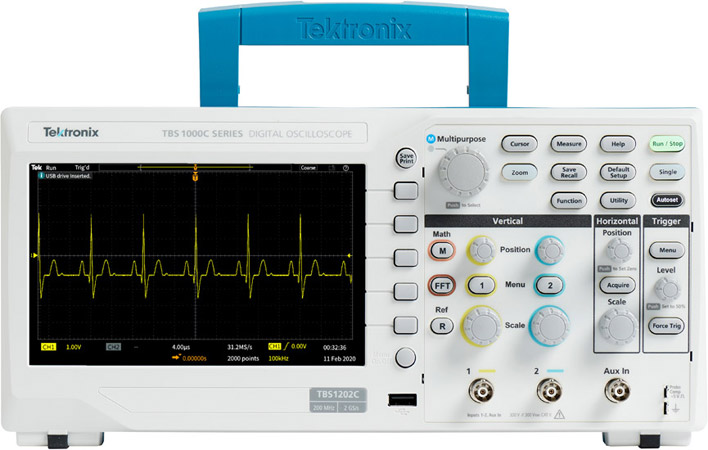 There are two models of Tektronix TBS series oscilloscopes in stock "CHIP and DIP" at special low prices - TBS1072C and TBS1202C .
TBS1072C , TBS1202C belong to the TBS1000C series, which is designed to meet the needs of modern educational institutions, design engineers and embedded system manufacturers. They boast a 7-inch WVGA color display, sample rates up to 1 GS/s, and upper bandwidth limits of 70 MHz and 200 MHz (depending on model).
The oscilloscopes also feature Tektronix HelpEverywhere®, which provides helpful tips and tricks throughout the user interface, making the instrument more accessible to new users.
The TBS1072C and TBS1202C digital storage oscilloscopes are among the most affordable instruments for fast learning and maximum ease of use. Their WVGA color displays with a grid of 10 vertical and 15 horizontal divisions allow more detailed display of signals on the screen. They also feature convenient front-panel controls for easy access to important settings, as well as a new large menu with clearly structured on-screen information that makes it easy for users to find the data they need.
Main parameters:
Bandwidth 70 MHz for TBS1072C, 200 MHz for TBS1202C.
2-channel.
7-inch WVGA color screen with 15 horizontal divisions, displaying signal length 1.5 times longer.

1 GS/s

sampling rate per channel.
The length of the record is

20 thousand points

for each channel.
32 automatic measurements for fast, reliable testing of a wide range of signals.
Dual FFT window with simultaneous display of the signal in the time and frequency domain for a better understanding of the frequency spectrum of the signal.
Start signal frequency meter.
Ability to pan and zoom to quickly view the finest signal details in an area of interest.
Advanced Trigger Package including impulse, runt and power triggers.
Fanless design for low noise.
Five year warranty.