At the speed of WI-FI 6 with the new Mesh router Archer AX73 from TP-Link
16.11.2022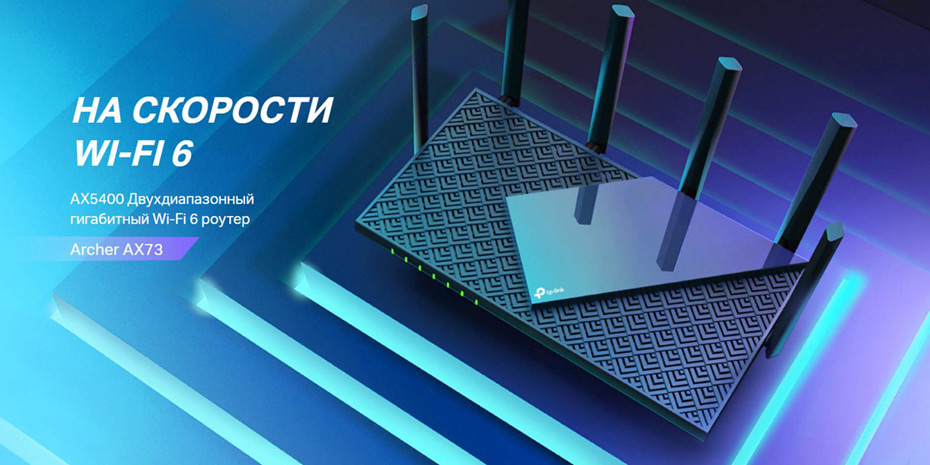 The Archer AX73 AX5400 Dual Band Gigabit Wi-Fi 6 Router will provide a stable connection throughout the apartment. With a powerful FEM module, six antennas, Beamforming technology and 4T4R, Wi-Fi coverage is enough for all devices.
Wi-Fi 6 is needed for more efficient operation of the wireless network - especially when it is deployed where there are already many client devices and other access points. Today, around 14.96 billion devices in the world connect to Wi-Fi. The growing volume of traffic and Wi-Fi signal sources is a challenge for the wireless networks of the future. IEEE 802.11ax (Wi-Fi 6), the latest Wi-Fi standard, aims to solve this problem. In the next decade, it is he who will provide users with faster and more stable wireless Internet.
Benefits of the Archer AX73 AX5400
Gigabit Wi-Fi for 8K streaming
Wi-Fi speeds up to 5400 Mbps allow you to surf the Internet, watch streaming videos and download files at the same time at high speed¹. Need more speed? Then connect to 5 GHz to safely watch several 8K streams at once without delay.
Benefits of Wi-Fi 6
Support for 4T4R and HE160 on the 5GHz band provides connection speeds up to 4.8Gbps.
Connectivity to over 200 devices³
Archer AX73 can easily handle dozens of devices running streams or online games. OFDMA and MU-MIMO technologies will ensure the relevance of the home Wi-Fi network for the future and will allow you to connect many devices at the same time.
OFDMA - Allows different devices to share the same stream, increasing efficiency.
MU-MIMO - Provides data transfer to multiple devices using multiple streams.
Support for MU-MIMO and OFDMA reduces network congestion and quadruples average throughput²**.
Wide coverage area
Wide coverage area is guaranteed by six antennas and Beamforming technology.
HomeShield: security for all devices
HomeShield - TP-Link's premium security service secures your home network with the latest technology to protect your network and IoT devices*. HomeShield protects all connected devices from DDoS attacks, malicious sites, and port-level intrusions, keeping personal data safe and private.
Does not heat up
The top panel of the case is made in an original modern design and consists of many holes that improve heat distribution and allow the router to work at full capacity.
Fast connection speed and easy sharing
The USB 3.0 port allows you to easily share media files and create a private cloud, as well as connect a 3G/4G USB tethering. Gigabit Ethernet ports provide maximum wired connection speed.
Easy setup
The Archer AX73 is set up in minutes through an easy-to-use web interface or the Tether app for Android or iOS.
OneMesh support
Archer AX73 supports OneMesh technology, which allows you to create a seamless coverage and forget about signal losses and delays when moving. Use OneMesh enhancers to create coverage throughout your home.
1. The maximum wireless signal rate is the physical maximum as defined by the IEEE 802.11 standard. Actual wireless throughput and coverage are not guaranteed and will vary based on network conditions, customer limitations, and environmental factors including building materials, physical obstructions, traffic volume and density, and customer location.
2. To use Wi-Fi 6 (802.11ax), OFDMA, MU-MIMO, 1024-QAM and HE160, these features must be supported by customers. The 160MHz channel width on the 5GHz band may not be available in some regions/countries due to local regulatory restrictions.
3. Up to 128 devices on the 5GHz band and up to 96 devices on the 2.4GHz band can be connected to the Archer AX73 router. Performance depends on application and environmental conditions.
* HomeShield includes a free basic plan. There is a charge for the Pro plan.
** To use MU-MIMO, customers must also support this technology.
*** This router may not support all of the mandatory features approved in Draft 3.0 of the IEEE 802.11ax specifications.
**** As new features become available, a firmware update may be required to access them.