VIGI NVR1104H-4P is a 4-channel network video recorder with PoE+ support from TP‑Link
15.09.2023
Реклама
Рекламодатель: АО «ЧИП и ДИП»
erid: LjN8KTAcP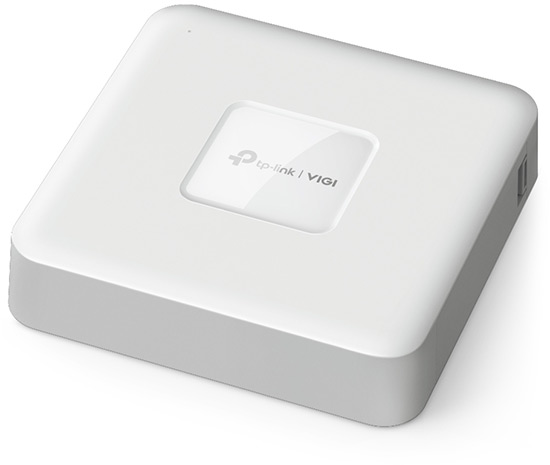 A new product has been received from TP-Link: VIGI NVR1104H-4P - a 4-channel network video recorder with PoE+ support.
HDMI 4K video output and decoding up to 16 MP: high-resolution support and the ability to display up to four channels will allow you to see every detail from any angle.
Simplified deployment thanks to PoE+: Connect cameras with a single RJ45 cable, which will transmit both data and power — no adapter is needed.
Easy installation of the hard drive: easily connect and remove the hard drive through a convenient side opening.
Synchronous playback: simultaneous playback from four cameras, as well as the ability to increase the playback speed and search for events for quick navigation through the footage.
H.265+ compression format: will save hard disk space and reduce network load without loss of image quality.
ONVIF standard: allows you to safely connect IP cameras from other manufacturers.
Plug and Play: Will automatically add and instantly activate new VIGI cameras not previously added.
Round-the-clock recording: automatic saving of video recordings from connected cameras in a volume of up to 10 TB.
Remote Monitoring: Simple and convenient remote monitoring via the app, web interface or Security Manager.
Built-in speaker: eliminates the need to buy an external speaker.
Different installation methods: the DVR can be placed on a wall or on a table.
Note: Mounting accessories and hard drive are not included.
Technical specifications
CODING
Compression format
H.264, H.264+, H.265, H.265+
Online broadcast resolution
and playback
QCIF, CIF, 2CIF, DCIF, 4CIF, VGA, 720p, UXGA, 1080p, 3 MP, 4 MP, 5 MP, 8 MP
Synchronous playback
4 channels
Number of channels and resolution
2 channels: 8 MP,
4 channels: 4 MP
network
Protocols
TCP/IP, DHCP, DNS, NTP, UPnP
Incoming bandwidth
80 Mbps
Outgoing bandwidth
60 Mbps
CONNECTORS
Network connector
Self-adapting RJ45 10/100 Mbps Ethernet port
USB interfaces
USB 2.0 (2 pcs.)
HARD DRIVE
Number of SATA connectors
SATA Interface
Volume
Up to 10 TB
GENERAL CHARACTERISTICS
Scope of delivery
Network video recorder
Power Adapter
Hard Drive Screws
Mouse
Quick Installation Guide
Operating temperature
–10...+55°C
Dimensions (W × D × H)
200.3 × 200.3 × 43 mm
PoE
Standard: 802.3af/at
PoE Ports: 1-4
PoE Budget: 53 Watts
External power supply
53.5V DC / 1.31 A
Energy consumption
4.82 W (without disc)
VIDEO/IMAGE
Video Input
4-channel video input, resolution up to 8 MP
Recording Permission
QCIF, CIF, 2CIF, DCIF, 4CIF, VGA, 720p, UXGA, 1080p, 3 MP, 4 MP, 5 MP, 8 MP
HDMI output resolution
Channel resolution: 1024×768 (60 Hz), 1280×720 (60 Hz), 1280×1024 (60 Hz),
1440×900 (60 Hz), 1680×1050 (60 Hz), 1920×1080 (60 Hz), 3840×2160 (30 Hz)
VGA output resolution
Channel resolution: 1024×768 (60 Hz), 1280×720 (60 Hz), 1280×1024 (60 Hz),
1440×900 (60 Hz), 1680×1050 (60 Hz), 1920×1080 (60 Hz)
Video