Single Channel Industrial USB-TTL Converters from Waveshare Electronics
17.01.2023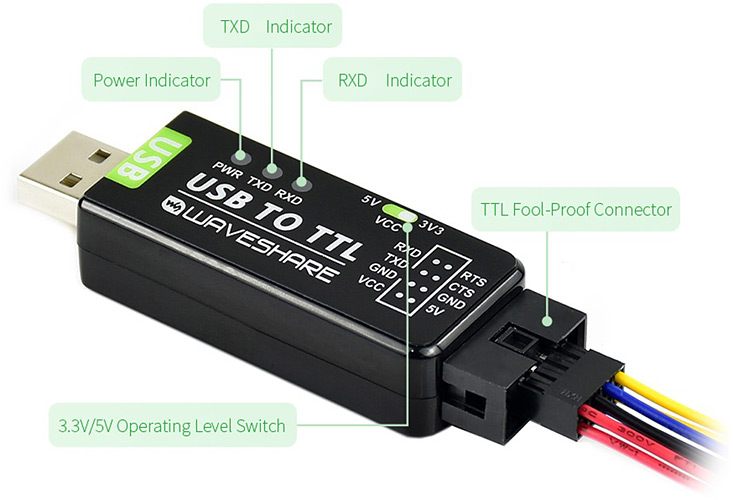 New products have been added to the assortment, single-channel USB TO TTL and USB TO TTL (B) converters, which perform the function of converting USB to a serial high-speed interface with TTL signals. This type of converter is widely used for connecting automation devices, providing power and data transfer between a PC and various 3.3 / 5V devices, programming microcontrollers.
The converters are suitable for use in industrial environments with strict requirements for the working environment. Compatible with popular operating systems such as Windows, Mac, Linux and Android. It is also equipped with over-current/over-voltage protection circuits and electric discharge protection circuits for stable operation of the device.
Specifications
USB to TTL
USB TO TTL(B)
Chip
original FT232 chip
Original CH343G chip
Transfer rate

300 bps ...

3 Mbps

50 bps ...

6 Mbps

Data flow control
hardware flow control
Supported OS
Win7/8/8.1/10/11,
Mac, Linux, Android, WinCE
Win7/8/8.1/10/11,
Mac, Linux, Android
USB port
Connector: USB-A;
Protection: resettable fuse, ESD protection.
UART port
Connector: 8PIN fool-proof header;
Protection: I/O protection diode.
Indicators
PWR: Power indicator, turns red when USB voltage is detected;
TXD: TX indicator, turns red when the USB port is sending data;
RXD: RX indicator, turns red when the device port is receiving data.
dimensions