28212, Double-sided adhesive tape 50mm x 25m (polypropylene)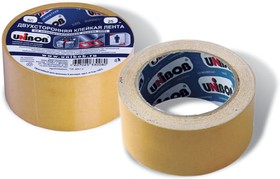 Images are for reference only,
see technical documentation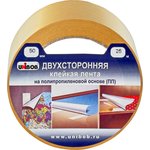 81 pcs. from the central warehouse,

term 5-7 working days
Add to Shopping Cart

1

pcs.
amount of

1 060

֏
Description
It is used for gluing smooth surfaces and materials during assembly, repair, design and decoration work.
The main advantages of the product:
Convenient replacement for mechanical fasteners
Suitable for mounting light interior items
Can be used on both horizontal and vertical surfaces
The product range includes tapes on a transparent and matte basis.
The small thickness of the film makes the place of gluing almost invisible
Adhesive layer based on synthetic rubber provides reliable fastening on vertical and horizontal surfaces
Colored informative label
Each roll is packed in a shrink film, which allows you to save all the properties and technical characteristics of the product.
Specifications:
| | |
| --- | --- |
| The foundation | Biaxially oriented polypropylene |
| Adhesive layer | Based on synthetic rubber |
| Color | Transparent/frosted |
| Thickness | 97/71 µm |
| Working temperature | from -10 to +50 o S |
Individual packaging: shrink film, colorful informative label.
Size: 25mm x 10m (code 38915)/ 25mm x 25m (code 38916)/ 38mm x 10m (code 38566)/ 38mm x 25m (code 38567)/ 50mm x 10m (code 28211)/ 50mm x 25m (code 28212) )/ 50mm x 50m (code 75945)
Technical parameters
Delivery terms
Delivery to Yerevan
Office CHIP AND DIP

9 October1

free

HayPost
12 October1
1 650

֏

2
1
estimated delivery date depends on the date of payment or order confirmation
2
for parcels weighing up to 1 kg