DMS-20PC-0 / 5-24RL-C, Universal Process Control Monitor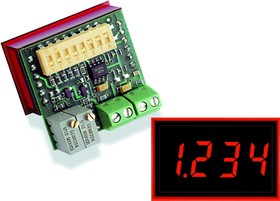 * Images are for reference only,
see technical documentation
149 pcs. from stock,

term 5-7 working days
Add to Shopping Cart

1

pcs.
amount of

25 200

֏
ItemNumber:
DMS-20PC-0/5-24RL-C

Description
A unique device in its segment that allows you to measure almost anything.

Thanks to its DIP switch, the panel can output various readings in two modes:
1. 0 to 5 Volts
2. 0 to 10 Volts

For example, you want to measure the number of revolutions of your engine - just set the switches to the desired position, and the panel starts showing values depending on the voltage applied to it.
In the same way, you can show Amps, Volts, Ohms, even the result of microcontroller calculations. All you need to do is change the position of the DIP switch.
The full range of panel capabilities is indicated in the attached technical documentation.

Let's just add that, thanks to the DMS-20PC-0/5-24RL-C panel, you can assemble a whole production console using several of these panels.
Technical parameters
Type of measuring head
multimeter
Range
4.75…40vdc
Color
red
Weight, g
11
Technical documentation