DRS-240-12, Power supply with UPS function and charger, 12V, 20A, 240W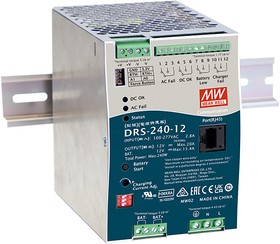 Images are for reference only,
see technical documentation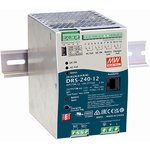 31 pcs. from the central warehouse,

term 5-7 working days
Add to Shopping Cart

1

pcs.
amount of

42 100

֏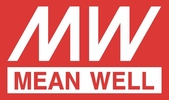 Description
The DRS-240/480 series power supplies are medium power alternating current (AC) to direct current (DC) converters mounted on DIN rail type TS-35/7.5 or 15. The DRS-240/480 are multi-function devices (All -In-One) - power supply, charger, DC uninterruptible power supply (DC UPS), circuit and battery status monitor (battery).
The output voltage is optimized for use with rechargeable batteries - 12 (DRS-240 only) , 24, 36, 48V , 240t (DRS-240) or 480W (DRS-480) power supply rating. Power supplies of the DRS-240/480 series have a built-in power factor corrector (PFC), built-in MODBus data transfer protocol, all the main types of protection, including protection against polarity reversal when connecting the battery and protection against deep battery discharge. Charging curve parameters are optimized for various types of lead-acid batteries and lithium-ion batteries .
DRS-240/480 series power supplies can be used in security, emergency lighting, public address systems, uninterruptible power supply systems, monitoring systems, industrial automation and other applications.
Technical parameters
Output voltage, V
12
Output current, A
20
Power, W
240
Dimensions, mm
85.5x125.2x129.2
Series
drs-240
Weight, kg
1.61
Technical documentation
Delivery terms
Delivery to Yerevan
Office CHIP AND DIP

10 October1

free

HayPost
13 October1
1 650

֏

2
1
estimated delivery date depends on the date of payment or order confirmation
2
for parcels weighing up to 1 kg