DSP KIT 4x3 HD, USB DAC+DSP. Motherboard with ADAU1452 digital audio processor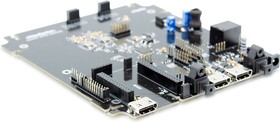 Images are for reference only,
see technical documentation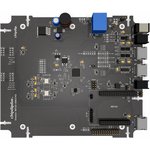 16 pcs. from the central warehouse,

term 5-7 working days
Add to Shopping Cart

1

pcs.
amount of

20 600

֏
Description
Based on many years of experience in designing and manufacturing modules for building audio with digital sound processing, which greatly facilitate and facilitate the design of high-quality audio systems of varying complexity, we have created two platforms
DSP KIT 4x3 UHD
and
DSP KIT 4x3 HD
. They differ only in the DSP in the circuit. ADAU1467 installed on UHD, ADAU1452 installed on HD.
DSP KIT 4x3 HD is a platform for easy construction of audio systems with digital sound processing of any complexity and configuration.
Hardware Capabilities
The DSP KIT 4x3 HD platform is based on a 32-bit ADAU1452 processor. The motherboard has two highly stable oscillators at 11.2896 MHz and 12.288 MHz for each frequency grid (44.1/48). The generators are connected to the DSP by a control logic. Each generator has its own linear power supply. All voltages for the ADAU1452 audio processor are also stabilized by linear converters.
All logical and audio ports of the ADAU1452 are routed to the board via connectors. The stereo SPDIF output is connected to an optical transmitter and to a transformer output. And the SPDIF stereo input is connected to an optical receiver and an input assembled on a differential receiver.
One input and one output I2S audio port are connected to HDMI connectors via differential line drivers. These are I2S over HDMI outputs.
Any DAC can be connected to any I2S port and more than one (for multi-channel sound, subwoofer)
The board has a serial non-volatile memory chip with a capacity of 256 kbit.
The main feature of the platform is full compatibility with Reflex USB-audio transport.
Once connected to the Reflex USB audio transport motherboard, the platform becomes a full-fledged external USB audio DSP. With the ability to connect up to 9 external controls and indications. Buttons, encoders, variable resistors, and up to 16 LEDs with pixel indication type WS2812.
You can connect a smart TV with built-in CEC technology to the HDMI service connector marked CEC; in this case, you can adjust the volume from the TV remote control, and turn the TV on / off from the device side.
Brief hardware characteristics.
Processor: 32-bit ADAU1452
Digital inputs: SPDIF (stereo) optical, coaxial / I2S - HDMI / USB audio with Reflex connection
Digital outputs: SPDIF (stereo) optical, coaxial / I2S - HDMI
Input HDMI CEC - volume control on / off with the remote control.
Supply voltage: 12V - 1A
Board size: 171 x 147 mm
Software Features
The platform with DSP ADAU1452 is compatible with the SigmaStudio software environment. You can create any project, listen to it, customize it and download it to non-volatile memory on the motherboard. To do this, you will need a
SigmaLink USBi programmer
.
If you have installed the Reflex transport, you can use the ChipStudio environment to load the project directly into Reflex memory. This option will open all the possibilities of SigmaStudio and ChipStudio software for you. With the ability to adjust, switch, indicate and connect all the algorithms created by Analog Device for the ADAU1452 processor.
With ChipStudio you can also rename Reflex and it will be detected by the OS under your name.
block diagram
1
ADAU1452 programmable digital signal processor (DSP) for audio processing. The sound processing project is created using the SigmaStudio graphical tool.
2
and
3
Clock generators for the digital signal processor. 11.2896 MHz generator for processing 44.1/88.2/176.4 kHz audio streams; 12.288 MHz generator for processing 48/96/192 kHz audio streams.
4
Memory chip for recording the project and loading the digital signal processor in stand-alone mode (SelfBoot).
5
Digital signal processor port connectors for input/output of digital audio streams.
6
SPDIF input - optical and coaxial.
7
"I2S via HDMI" input port. Can be configured as an I2S master or I2S slave. Corresponds to DSP Serial Input Port 0, block SDATA0-15 in the SigmaStudio project.
8
"I2S via HDMI" output port. Configured as I2S master. Corresponds to DSP Serial Output Port 0, digital outputs 0-15 in the SigmaStudio project.
9
SPDIF output - optical and coaxial.
10
Voltage converter from 12V to 5V.
11
Relay that allows you to turn the device on and off at the touch of a button.
12
Connector for connecting the power supply to the device.
13
Input/output lines (GPIO) of the Reflex module for connecting control elements (resistors, buttons, etc.) and indications (simple LEDs and programmable RGB(W) LEDs). Configured using ChipStudio software.
14
Connectors for installing the Reflex module. Reflex is a USB audio device and allows you to listen to audio content from a PC or smartphone. In addition, Reflex can act as an external control system for a digital signal processor: load a project depending on the frequency of the audio stream being played; change algorithm parameters in real time (change volume, filter coefficients, etc.) when turning a resistor, pressing a button, etc. A project for Reflex is created using ChipStudio software. The Reflex module corresponds to the DSP Serial Input Port 3, SDATA40-47 block in the SigmaStudio project.
15
Connector for setting the audio configuration and operating modes of the Reflex module.
16
HDMI connector for connecting to a TV that supports the CEC function. You can use the TV remote control to control the volume of the device. And the device can turn the TV on and off.
Example with
G764 housing for DSP KIT with DA panel
On our forum -
Engineering Zone,
you can ask questions and discuss projects.
Technical parameters
Technical documentation
Video
Delivery terms
Delivery to Yerevan
Office CHIP AND DIP

10 October1

free

HayPost
13 October1
1 650

֏

2
1
estimated delivery date depends on the date of payment or order confirmation
2
for parcels weighing up to 1 kg
Similar Products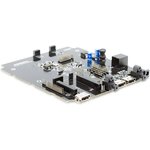 ChipDipDac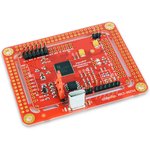 ChipDipDac