BS-2, Soldering iron tip cleaner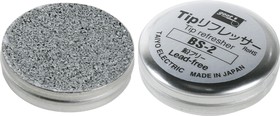 Images are for reference only,
see technical documentation
92 pcs. from the central warehouse,

term 5-7 working days
Add to Shopping Cart

1

pcs.
amount of

5 200

֏
Brand / Manufacturer:
Goot
Description
Paste BS-2 is designed for quick and effective cleaning and maintenance of soldering iron tips, which can no longer be cleaned with sponges, napkins and retinned with tubular solders.

Application:
1. Optimum tip temperature is 300-360°C.
2. Dip the heated tip into the paste or roll the tip over the surface of the paste.
3. Irrigate the sting, then remove the excess with a damp cellulose sponge.
4. If the sting does not work again, repeat the procedure.

Ingredients: ammonium phosphate, fine tin powder, binder.
Weight: 9 g.
Technical parameters
Video
Delivery terms
Delivery to Yerevan
Office CHIP AND DIP

6 October1

free

HayPost
11 October1
1 650

֏

2
1
estimated delivery date depends on the date of payment or order confirmation
2
for parcels weighing up to 1 kg