IS2-12-300, DC/AC inverter, 300W, input 12V, output 220V (car converter)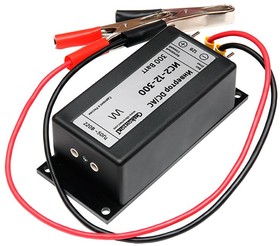 Images are for reference only,
see technical documentation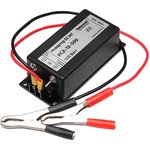 10 pcs. from the central warehouse,

term 5-7 working days
Add to Shopping Cart

1

pcs.
amount of

23 100

֏
Description
The inverter IS2-12-300 (voltage converter) converts the DC voltage of the battery 12 V into an AC sinusoidal voltage of 220 V and a frequency of 50 Hz. The qualitative characteristics of such a voltage are similar to the characteristics of the voltage in a household network.
Any equipment can be connected to the IS2-12-300 inverter, designed for power supply from a 220V household network and power consumption not exceeding the rated power of the inverter.
IS2-12-300 has the possibility of a short-term double forcing of the power delivered to the load. This makes it possible to connect to the device devices that consume power during the switch-on phase that exceeds the rated power consumption of the device. For example, at the time of switching on, the power of the refrigerator exceeds its rated power up to five times.
The IS2-12-300 inverter allows operation with any type of batteries - lead, nickel-cadmium, lithium-ion, etc.
Technical parameters
Input voltage, V
12
Power, W
300
Output signal form
pure sine wave
Weight, g
700
Technical documentation
Delivery terms
Delivery to Yerevan
Office CHIP AND DIP

10 October1

free

HayPost
13 October1
1 650

֏

2
1
estimated delivery date depends on the date of payment or order confirmation
2
for parcels weighing up to 1 kg