MARS 4K (01-2501) [bay-15 M.], Coaxial cable (Digital) Cu/Al/CuSn, (96%), 75 Ohm, white [bay-15 M.]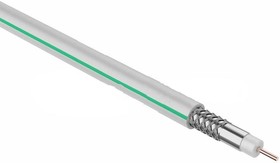 Images are for reference only,
see technical documentation
1 pcs. from the central warehouse,

term 5-7 working days
Add to Shopping Cart

1

pcs.
amount of

8 900

֏
Brand / Manufacturer:
China
Description
Cable MARS 4K 75 Ohm. It consists of a central copper wire and a metal braid (screen), separated from each other by a layer of dielectric (internal insulation) and has a common PVC outer sheath (PVC). The cable is used to transmit high-frequency signals and has a characteristic impedance of 75 ohms. Coaxial cables designed to operate in the microwave range are also called RF cables.

Scope of cable:
- For use in TV/DVB/DVB-S2/DVB-T2/HD networks.
- Local networks of general purpose.
- Cable networks.
- Television networks.
- Digital television.
- Satellite television.
- Video surveillance systems.

Technical description:
- Center conductor material - oxygen-free copper wire, diameter 1.00 mm.
- Physically foamed dielectric, diameter 4.80 mm
- Screen - double-sided copper screen and braid, consisting of tinned copper wires 80 x 0.10 mm.
- External PVC insulation - white polyvinyl chloride (PVC) with a green stripe, 0.85 mm thick.
- Overall cable diameter 6.8 mm.
- Wave impedance 75 Ohm.
- Operating temperature -20 C / +75C.
- Service life of 30 years.
Delivery terms
Delivery to Yerevan
Office CHIP AND DIP

2 October1

free

HayPost
5 October1
1 650

֏

2
1
estimated delivery date depends on the date of payment or order confirmation
2
for parcels weighing up to 1 kg