PETV-2 (d=1.0mm) 1kg, Enamelled wire (winding), 140m, spool 1kg (+/- 5%)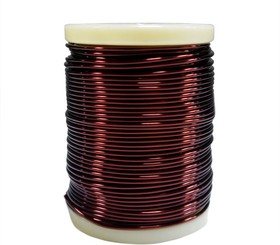 * Images are for reference only,
see technical documentation
16 pcs. from stock,

term 5-7 working days
Add to Shopping Cart

1

pcs.
amount of

21 900

֏
ItemNumber:
ПЭТВ-2 (d=1,0мм) 1кг
Brand / Manufacturer:
Russia
Description
PETV-2: (meter weight = 7.14 g) Under the order with rewind from 3 kg to 20 kg

Application area :
Enameled wire PETV-2 is a soft copper wire coated with durable varnish, which is used for the manufacture of windings of electrical machines, appliances, motors, transformers, inductors, and much more. Wire PETV-2 is suitable for manual and mechanized winding. PETV-2 is deciphered as enameled heat-resistant high-strength wire, "2" - has two layers of varnish. Temperature index +130°C.
The wire is manufactured in Russia at a factory with modern Austrian equipment. The diameter of the winding wire is indicated by the current-carrying core (without taking into account the thickness of the varnish layer).
Technical parameters
Diameter, mm
1
Composition
copper
Weight, kg
1.1