RC1206FR-074K7L (1206-4.7 kOhm 1%), CHIP resistor 1206 4.7 kOhm 1%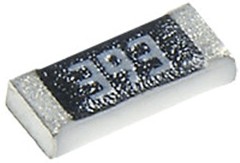 Images are for reference only,
see technical documentation
1 pcs. from the central warehouse,

term 5-7 working days
Add to Shopping Cart

1

pcs.
amount of

153

֏
Brand / Manufacturer:
Yageo

Description
Chip resistors of the RC series are made using thick film technology (Thick Film) and are designed for surface mounting with various soldering techniques (wave or hot air). This type of resistors is the most widespread and popular due to affordability and liquidity; its use on the board in a standard electronic product reaches up to 30% of the total number of positions.
The design of the RC series chip resistor consists of a ceramic substrate, internal electrodes, external leads, and a series of protective coatings. RC chip resistors are available in sizes 0075/0100/0201/0402/0603/0805/1206/1210/1218/2010/2512. The initial resistance tolerance of the RC resistors is ±1% and ±5%, but for special applications, you can choose more accurate values with a tolerance of ±0.1%, ±0.25% and ±0.5%. The rated power dissipation ranges from 0.062 to 2 W, depending on the housing design. Temperature instability of RC resistors is in the range from ±100 to ±300 ppm depending on the rating.
Technical parameters
Unit of measure
com
Accuracy,%
1
Working temperature, C
-55…125
Weight, g
0.033
Technical documentation
Delivery terms
Delivery to Yerevan
Office CHIP AND DIP

10 October1

free

HayPost
13 October1
1 650

֏

2
1
estimated delivery date depends on the date of payment or order confirmation
2
for parcels weighing up to 1 kg