RDC1-0034 V2 Stereo, Differential, high performance preamplifier. 2 x OPA1632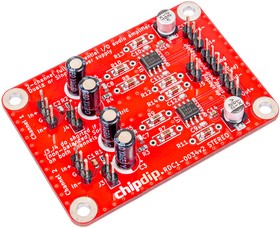 Images are for reference only,
see technical documentation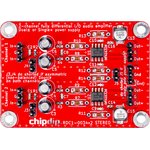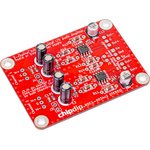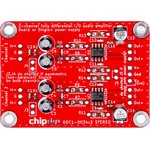 70 pcs. from the central warehouse,

term 5-7 working days
Add to Shopping Cart

1

pcs.
amount of

3 770

֏
Description
RDC1-0034 v2 Stereo - A two-channel, fully differential bass preamplifier that delivers the highest sound quality with very low noise. The operational amplifiers installed in this module -
OPA1632D
, operate in a wide frequency range up to 180 MHz, have a high signal slew rate - 50 V / µs and have extremely low distortion - 0.000023%, with a maximum signal-to-noise ratio and wide dynamic range. Differential input and output reduces even-order harmonics and minimizes noise interference.
This module (replacing a pair
of RDC1-0034a
but overall smaller) uses more power switching and gain settings. On the board, simple jumpers provide for switching the power mode depending on the source (single- or bipolar) and enabling the unbalanced signal source mode. Vishay high-precision MELF resistors are used as standard, which set the gain. The remaining components are better than 1% accuracy for resistors, and NP0/X7r dielectric for SMD capacitors. In addition, the board has slots for output resistors to adjust the gain (to your requirements), and it is easier to tweak / replace the decoupling capacitors with more audiophile ones.
Specifications:
Band of reproducible frequencies (limited by LPF) ...... - 1.6Hz ... 80kHz
Total harmonic distortion THD + N @ 1 kHz…... - 0.000022%
Common mode rejection ratio……………........… - 90dB
Output signal slew rate …………………........... 50V/µs
Output current……………………………………………………………..... 85mA
Recommended supply voltage:
Unipolar (jumper J5 installed):…....….….. +12V
Permissible supply voltage (unipolar): +5…+15V
Bipolar :…………………….........….…..…… ±2.5….±15V
Board dimensions: 59 x 42 mm
Mounting Hole Center Distance :52 x 35mm
Schematic diagram:
Mounting diagram of balanced connection:
Wiring diagram for connecting unbalanced inputs:
note on wiring diagrams:
Capacitors C3-C6 are not shown. Input configuration modes and power modes can be combined.
Technical parameters
Technical documentation
Delivery terms
Delivery to Yerevan
Office CHIP AND DIP

10 October1

free

HayPost
13 October1
1 650

֏

2
1
estimated delivery date depends on the date of payment or order confirmation
2
for parcels weighing up to 1 kg