RG-8X (01-2021) [Bay-3 M.], Coaxial cable (50 Ohm) [Bay-3 M.]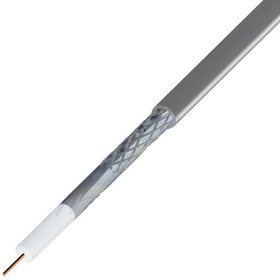 Images are for reference only,
see technical documentation
1 pcs. from the central warehouse,

term 5-7 working days
Add to Shopping Cart

1

pcs.
amount of

1 130

֏
Brand / Manufacturer:
China
Description
Coaxial cable RG-8X CCS (50 Ohm) Rexant is indispensable for laying indoors in order to transmit high-frequency analog signals. According to the structure, this cable consists of two conductors - the central one and the outer one - the screen, which are placed coaxially inside the cable and separated by dense insulation. The center conductor in the RG-8X CCS (50 ohm) Rexant cable is single strand copper-clad steel surrounded by polyethylene foam insulation to keep the conductors aligned. A solid outer aluminum conductor is superimposed on a polyethylene dielectric. The cable also has an additional aluminum braid shield for improved EMI protection. The nominal impedance of this cable is 50 ohms. The cable sheath is made of PVC and is grey. The combination of high quality and reasonable price of Rexant RG-8X CCS (50 Ohm) coaxial cable makes it an excellent solution for data transmission systems.
Technical documentation
Delivery terms
Delivery to Yerevan
Office CHIP AND DIP

9 October1

free

HayPost
12 October1
1 650

֏

2
1
estimated delivery date depends on the date of payment or order confirmation
2
for parcels weighing up to 1 kg