ST-60, Soldering station 150-450C 60W
Images are for reference only,
see technical documentation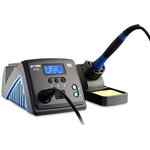 Price and delivery time on request
Add to Shopping Cart

1

pcs.
amount of

37 300

֏
Brand / Manufacturer:
Atten
Description
ATTEN ST-60 is an intelligent, reliable, economical and convenient digital soldering station.

The product is made taking into account 20 years of experience of the manufacturer and is characterized by high reliability parameters in operation.

APPLICATION: production lines, institutes, engineering and technology centers, maintenance and repair points, college education, home use.

Functional features of the ATTEN ST-60 soldering station:
Recognition of working and non-working modes.
Intelligent cooling and temperature recovery.
Automatic shutdown and automatic transition to adjustable sleep mode guarantee personal safety and can extend the service life of the product
Updated design.
The set parameters are displayed on the LCD display.
User-friendly menu menu that provides easy customization.
Visual control over the work process. The heating level scale is displayed on the display.
Three buttons for programming and quick switching between frequently used temperature modes.
Temperature lock for ease of operation.
Adjustable shutdown and sleep time reduce power consumption.
The soundtrack function can be disabled.
The microprocessor temperature controller ensures high heating accuracy and high performance of the device.
The low voltage heating element is installed separately from the power supply and ensures safe operation during soldering.
Soldering iron SP-60, compatible with soldering stings of the T900-B series.
To reduce costs, the tip and the heating element are made by separate components.
A separate stand for the soldering iron.
Technical characteristics of the ATTEN ST-60 soldering station:
| | |
| --- | --- |
| Operating voltage of the station | AC (100V/110V/120V//220V/230V/240V) 50/60Hz |
| Power | 60 watts |
| Working voltage of the soldering iron | AC 26 V |
| Temperature range | 150°C - 450°C (302-842°F) |
| Accuracy of the set temperature | ±15°C |
| Temperature stabilization | Static, ±2°C |
| Automatic standby mode | 1-120 minutes |
| Temperature in standby mode | 150°C |
| Automatic shutdown | 1-120 minutes |
| Temperature adjustment | 5 modes (default)/1 mode (fine tuning) |
| Heating element | Two-wire |
| Temperature blocking | Yes |
| Soundtrack | Yes |
| Ground resistance | Up to 2 Ohm |
| Grounding potential | Up to 2 mV |
| Dimensions, mm | 315 x 270 x 152 |
| Weight | 1.86 kg |
Technical parameters
Technical documentation