EPC014 sealed plastic case with filler, black, 390x265x150 mm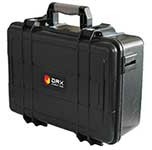 Images are for reference only,
see technical documentation
1 pcs. from the central warehouse,

term 5-7 working days
Add to Shopping Cart

1

pcs.
amount of

37 100

֏
Description
Medium plastic protective case Type EPC 014 External dimensions: 425x325x168 mm, internal dimensions: 390x265x150 mm; color: black / orange tightness - class IP 67, weight with filler 2.34 kg.
Material: ABS plastic
Features of the plastic protective case Type EPC 014 :
The plastic case/suitcase is made by injection molding of engineering plastics, which are highly impact resistant, lightweight and rigid.
The level of protection of the internal space of the product body complies with the requirements of the dust and moisture protection class IP67, antistatic coating - for effective protection of equipment in harsh operating conditions.
Creation of various cavities inside the case using finely cut foam.
Availability of a pressure relief valve with an o-ring in the front of the body
Strong closing mechanisms.
Area for stickers on both the bottom and top of the suitcase.
Technical parameters
Technical documentation
Delivery terms
Delivery to Yerevan
Office CHIP AND DIP

10 October1

free

HayPost
13 October1
1 650

֏

2
1
estimated delivery date depends on the date of payment or order confirmation
2
for parcels weighing up to 1 kg