Tape R31 (polyester) 30 x 0.05 mm 66 m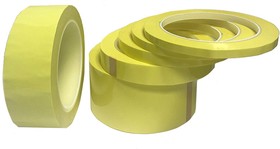 Images are for reference only,
see technical documentation
1 pcs. from the central warehouse,

term 5-7 working days
Add to Shopping Cart

1

pcs.
amount of

3 990

֏
Description
Polyester tape R31
Thin (0.05 mm) and at the same time high-voltage material (5 kV)
A sticky layer of high adhesion on one side
Working temperature: 130 S
Ribbon: Yellow
ADHESIVE ELECTRICAL INSULATING TAPE R31 Electrical insulating self-adhesive tapes are actively used in winding production for the following works: -performing inter-winding insulation, -fixing interlayer insulation materials, -fixing coils, -fixing the output ends of the beginning and end of winding, -external insulation of winding, -fixing cores during assembly, -increased electrical safety, -giving transformers a commercial vida.
APPLICATION:
* insulation between the winding layers
external insulation of frames and connectors
external insulation of the last winding layer.
STORAGE CONDITIONS * in a clean place at a temperature of +10+30gr. C
Technical parameters
Delivery terms
Delivery to Yerevan
Office CHIP AND DIP

10 October1

free

HayPost
13 October1
1 650

֏

2
1
estimated delivery date depends on the date of payment or order confirmation
2
for parcels weighing up to 1 kg