30320 Acrylic Double-sided Adhesive tape grey 3M GT6008 8mm x 5m x 0.8mm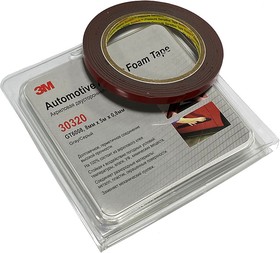 Images are for reference only,
see technical documentation
1 pcs. from the central warehouse,

term 5-7 working days
Add to Shopping Cart

1

pcs.
amount of

3 220

֏
Description
Acrylic double-sided tape 3M gray, consists entirely of acrylic, has high adhesion.

Double-sided adhesive tape is designed for basic tasks: fixing windshields, moldings, external tuning of the car. Excellent for gluing painted and unpainted metals, aluminum, plastics, etc..

It can be used as a fastener in the decoration of premises, furniture assembly, the device of networks.

Suitable for the following surfaces: acrylic; PVC;PET;ABS;PC,aluminum; stainless steel; unpainted steel; copper.
Technical parameters
Delivery terms
Delivery to Yerevan
Office CHIP AND DIP

10 October1

free

HayPost
13 October1
1 650

֏

2
1
estimated delivery date depends on the date of payment or order confirmation
2
for parcels weighing up to 1 kg