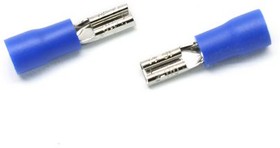 Images are for reference only,
see technical documentation
4 pcs. from the central warehouse,

term 5-7 working days
Add to Shopping Cart

1

pcs.
amount of

9

֏
Brand / Manufacturer:
Net torgovoj marki
Description
Flat insulated tip (knife terminals "female") FDD2-187(8) - serves to provide a collapsible high-quality contact connection of conductors with a cross section of 1.5-2.5 mm2, a maximum current of 15A with the conclusions of various electrical appliances and devices. The width of the contact part of the knife tip is 4.75 mm, the plug-in contact is 0.8x4.75 mm. Flat insulated lugs are made of 0.35 mm thick tinned copper, insulation material is self-extinguishing polyvinyl chloride, PVC. The color of the dielectric (insulation) on the tip is blue. The advantage of the flat type of NPI tips is a large contact area and the ability to quickly reconnect the contact. Tips are used when mounting copper and aluminum single and stranded wires and cables. For the correct selection of the tip size, the following criteria must be taken into account: the contact dimensions of the mating part "male", the cross section of the core, the current strength, the width of the "knife" of the tip.
Technical parameters
Functional purpose
tip flat
Maximum cross-section of the clamped wire, mm2
2.5
Insulator material
pvc
Insulator color
Blue
Contact material
Tinned copper
Weight, g
93
Delivery terms
Delivery to Yerevan
Office CHIP AND DIP

9 October1

free

HayPost
12 October1
1 650

֏

2
1
estimated delivery date depends on the date of payment or order confirmation
2
for parcels weighing up to 1 kg