Anti-aerosol filter P3 with additional protection against odors No. 2138 ROZ 7000029735
Images are for reference only,
see technical documentation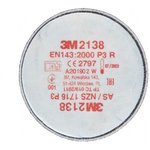 2 pcs. from the central warehouse,

term 5-7 working days
Add to Shopping Cart

1

pcs.
amount of

6 600

֏
Brand / Manufacturer:
Net torgovoj marki
Description
Particle filter 3M P3 with additional odor protection No. 2138 ROS 7000029735 is compatible with 3M™ 6000, 3M™ 6500QL and 3M™ 7500 half masks, as well as 3M ™ full face masks.
Represents the filter of high degree of protection against liquid and firm aerosols. Suitable for protection against welding fumes.
Technical parameters
Delivery terms
Delivery to Yerevan
Office CHIP AND DIP

3 October1

free

HayPost
6 October1
1 650

֏

2
1
estimated delivery date depends on the date of payment or order confirmation
2
for parcels weighing up to 1 kg