TCNT476M016R0150, Tantalum Capacitors - Polymer 16V 47uF 20% 1210 ESR=150mOhm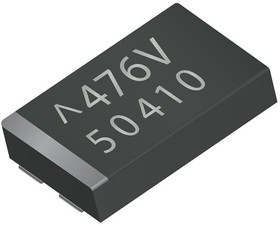 * Images are for reference only,
see technical documentation
2285 pcs.,

term 11-13 weeks
Add to Shopping Cart

1

pcs.
amount of

2 470

֏
ItemNumber:
TCNT476M016R0150
Description
Passive Components\Capacitors\Tantalum Capacitors\Tantalum Capacitors - Polymer
Automotive Solid Electrolytic Capacitors
KYOCERA AVX Automotive Solid Electrolytic Capacitors feature a range of tantalum, polymer, and niobium oxide capacitors that bring specific and unique features to suit specific application requirements. The KYOCERA AVX conventional tantalum / MnO 2 capacitors offer a long lifetime and no wear-out mechanism. Niobium Oxide (OxiCap®) offers extreme stability for low voltage automotive applications, while conductive polymer offers low ESR, benign failure mode, and high voltage ratings.
Technical parameters
Technical documentation