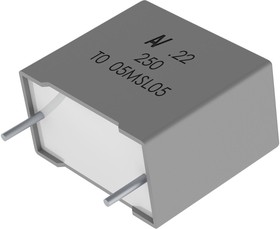 * Images are for reference only,
see technical documentation
Add to Shopping Cart

1

pcs.
amount of

10 500

֏

Description
The R60 Series is constructed of metallized polyester film (wound or stacked technology) with radial leads of tinned wire. Radial leads are electrically welded to the contact metal layer on the ends of the capacitor winding. The capacitor is encapsulated with thermosetting resin in a box material meeting the UL 94V-0 requirements. Automotive grade devices are available (up to lead spacing 22.5mm) and meet the demanding Automotive Electronics Council's AEC-Q200 qualification requirements. Typical applications include blocking, coupling, decoupling, bypassing and interference suppression in low voltage applications such as automotive. Not suitable for across-the-line application (see Suppressor Capacitors).
• Voltage range: 50 - 1000 VDC
• Capacitance range: 0.001 µF - 150.0 µF / Capacitance tolerance: ±5%, ±10%, ±20%
• Lead spacing: 10.0 - 37.5 mm
• Climatic category: 55/105/56 / Operating temperature range of -55°C to +105°C
• Tape and reel packaging in accordance with IEC 60286-2
• RoHS compliance and lead-free terminations
• Self-healing
• Automotive (AEC-Q200) qualified up to pitch 22.5 mm