* Images are for reference only,
see technical documentation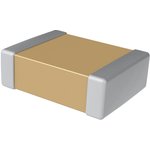 Add to Shopping Cart

3

pcs.
amount of

1 710

֏

Description
KEMET's C Series C0G dielectric features a 125°C maximum operating temperature and is considered "stable". The C0G dielectric is a Class I material. Components of this classification are temperature compensating and are suited for resonant circuit applications or those where Q and stability of capacitance characteristics are required. C0G exhibits no change in capacitance with respect to time and voltage and boasts a negligible change in capacitance with reference to ambient temperature. Capacitance change is limited to ±30 ppm/ºC from -55°C to +125°C.
• Operating temperature range from -55°C to +125°C
• Capacitance range includes E24 decade values from 0.5 pF up to 0.47 µF
• EIA 0201, 0402, 0603, 0805, 1206, 1210, 1808, 1812, 1825, 2220 and 2225 case sizes available
• DC voltage ratings from 10V to 250V
• Available capacitance tolerances of ±0.10pF, ±0.25pF, ±0.5pF, ±1%, ±2%, ±5%, ±10% and ±20%
• High thermal stability
• High ripple current capability
• Extremely low ESR and ESL
• No capacitance decay with time
• No piezoelectric noise
• Capacitance change is limited to ±30ppm/°C from -55 to 125°C
• Capacitance offerings ranging from 0.5pF up to 0.47µF
Technical documentation