New smart home control center Aqara
10.03.2022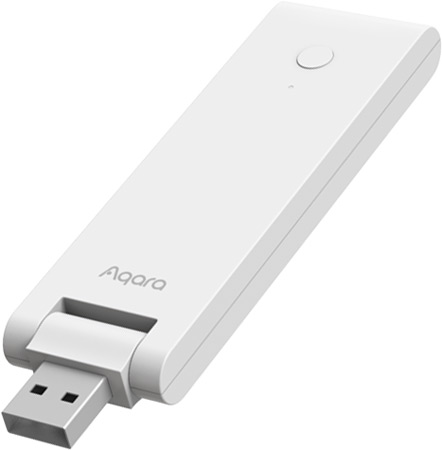 Aqara has released a new compact smart home control center Hub E1 . The device is designed as a flash drive with a USB-A connector, so it can be easily connected to a router, power supply, special socket, laptop and other devices with a free USB slot. The design provides rotation of the connector within 210 degrees.
The hub works on the Zigbee 3.0 protocol and can act as a 2.4 GHz Wi-Fi signal repeater. The use of the new Zigbee 3.0 protocol improves device stability, reduces latency and improves energy efficiency. Also in Zigbee 3.0 , the work of local scripts has been improved. Thus, the gadget not only allows you to control Aqara devices, but is also able to replace a separate wireless repeater.
Hub E1 allows you to work simultaneously with 128 Aqara devices not only through its own Aqara Home application, but also ensures their compatibility with popular ecosystems such as: Apple HomeKit, Google Home, IFTTT, as well as with voice assistants: Siri, Alice by Yandex, Marusya from Mail.ru, Google and Amazon Alexa.
Peculiarities
Dimensions: 108×30×8 mm;
Communication protocols: Zigbee 3.0 IEEE 802.15.4, Wi-Fi IEEE 802.11 b/g/n 2.4 GHz;
Manage up to 128 devices;
Additional features: Wi-Fi repeater (up to 2 clients, up to 4 Mbps).