A new set from the series "Dare!" from BHV-Petersburg publishing house
07.07.2022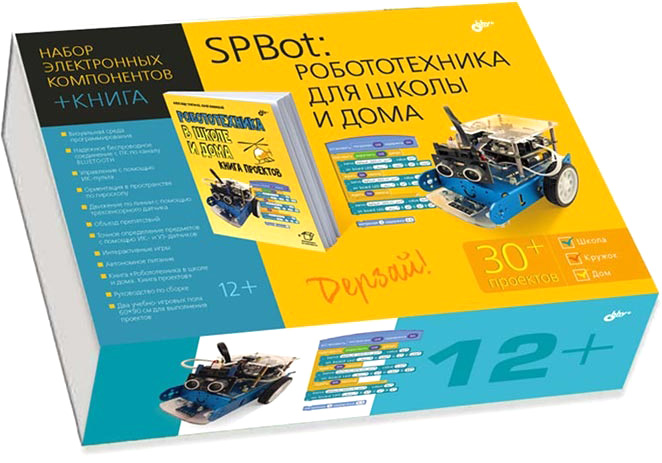 A new addition to the range! The SPBot educational kit is designed for beginner robotics from grades 3 to 11. It consists of the robot designer SPBot, the book " Robotics at school and at home. Book of projects "(authors Grigoriev A., Vinnitsky Yu.), step-by-step assembly instructions and training materials for performing experiments.
The book describes more than 30 robot programming projects in visual environments based on the Scratch language (mBlock, MindPlus and Snap4arduino). The complexity of the projects is growing from introductory, for elementary school students, to competitive ones. The problems of orientation and navigation of the robot using line sensors, a gyroscope and a swivel head with ultrasonic and IR rangefinders and other projects are considered. Batteries and a charger are included for offline operation, as well as controlling the robot via Bluetooth or using an IR remote control.
Using the components of this set, you can create and further modify the following projects:
Let's talk? Morse code;
Shall we play? Panda with a ball;
Remote Control;
Sociable Panda;
Shall we ride? 9 movement options;
Keyboard shortcut management;
Bring to the line, then I myself !;
Line movement. I will return myself;
Independent robot. Mastering offline mode;
Accept command!;
Three options for following the line;
Disco. Infrared control panel;
Metronome;
Evasion;
Calibration;
Locator on the lander;
parking;
Meet, this is a gyroscope!;
Star Racing!;
Solar Quadcopter;
Rescue helicopter;
We keep the right course;
Gaze;
I go where I look;
Sharp vision 1. Sorting an array of values, median;
Sharp vision 2. Distance;
Sharp vision 3. Superlocator;
Precise movements, calibration;
Remote control. Mastering MindPlus;
Engine management. Getting to know Snap4Arduino;
By cells!;
Navigator in the labyrinth;
Ready! We test the system;
Draw graphs!;
Demonstration.