GREEGOO foot switches (pedals)
01.08.2023
Реклама
Рекламодатель: АО «ЧИП и ДИП»
erid: LjN8KAmHU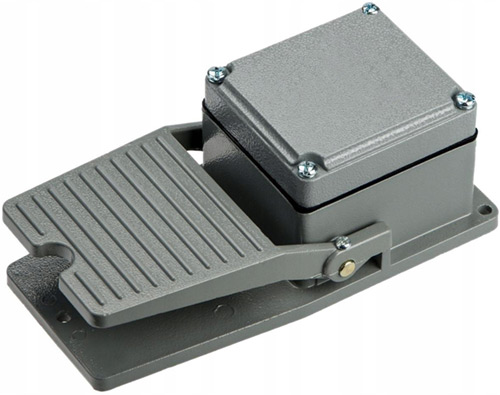 Control of machines, various automation systems and other equipment in production conditions (however, as well as in domestic conditions) can be carried out not only from control panels or keyboards, but also with the help of buttons and pedals (foot switches).
A pedal is a switch similar to a button or a switch that uses foot force to operate. Pedal switches are used for switching DC and AC control circuits in places and facilities where this is due to the conditions of use, safety rules, design, and, finally, just convenience.
The Chinese company GREEGOO presents, practically, a complete line of foot switches (pedals) capable of meeting the need in any field of electrical equipment control. GREEGOO means "Honest, prosperous and lucky" in Chinese. Founded in 1995, and with more than 15 years of design and manufacturing experience, the company is a symbol of high technology.
GREEGOO foot switches are available in various types of housings. These are plastic housings used in not very severe operating conditions. These are switches mounted inside aluminum alloy housings, used in harsher conditions. Finally, the housing can also be made of steel. In addition, some types of switches have a protective cover designed to protect the operator's foot from falling objects and protect the pedal from accidental pressing.
Most pedals have three wires, and work according to the "1A1B" algorithm, i.e. they have one normally closed and one normally open contact. Such a solution allows you to use the same pedal as a closing (when the pedal is pressed), opening, and switching device.
There are also more complex switching schemes. For example, the CFS-304 and CFS-504 pedals have two built-in microswitches, which ensures operation in two-channel mode. And the pedals CFS-602 and CFS-702 have two pedals on the same base. One pedal can be used, for example, to directly control the equipment, and the second one can be used to lock all equipment in an emergency.
Main technical characteristics of pedals
Model
Operating current, A
Operating voltage, V
Type of microswitch
Cable cross-section, mm2
Number of lives
Algorithm of operation
Actuation force, kg
Fixing
Material
CFS-101
10
250
CMV-100D
0,75
3
1A1B
1,2
No
Plastic
CFS-102
15
250
CM-1704
0,75
3
1A1B
1,1
No
Plastic
CFS-105
6
250
CS-105
0,75
3
1A1B
2
There are
Plastic
CFS-3
10
250
CMV-100D
0,75
3
1A1B
1,2
No
Aluminum
CFS-3S
15
250
CM-1704
0,75
3
1A1B
1,2
No
Aluminum
CFS-305
6
250
CS-105
without cable
1A1B
3,1
There are
Aluminum
CFS-201
10
250
CMV-100D
0,5
3
1A1B
0,7
No
Plastic
CFS-01
10
250
CMV-100D
0,5
3
1A1B
0,7
No
Plastic
CFS-1
10
250
CMV-100D
0,5
3
1A1B
0,9
No
Steel
CFS-302
15
250
CM-1704
without cable
1A1B
3,2
No
Aluminum
CFS-304
15
250
2*CM-1704
without cable
2A2B
3,2
No
Aluminum
CFS-504
15
250
2*CM-1704
without cable
2A2B
3,2
No
Aluminum
CFS-602
15
250
spring type button
without cable
2*1A1B
2,8
No
Aluminum
CFS-702
15
250
CM-1704
without cable
2*1A1B
3,2
No
Aluminum
CFS-404
15
250
2*CM-1704
without cable
2A2B
3,2
No
Aluminum